ANTHOLOGIES OF SASKIA'S SHORT FICTION
Over the last two decades, Saskia's short fiction has appeared in over 100 International anthologies and magazines. The four collections described below represent all those stories brought together into Saskia's own anthologies. Stories are gathered by theme. UNLEASHED and UNASHAMED focus on literary erotic fiction. SEDUCED contains stories with a specifically romantic/couples theme, and MASTERS AT MIDNIGHT is a collection of BDSM themed novellas. Something for everyone!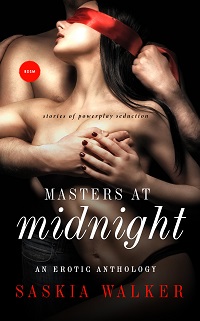 Masterful men and their willing submissives...
What does it take to create the ideal Dom/sub relationship? Women's fiction author Saskia Walker explores the myriad moods, emotions and encounters that trigger power play in this series of raunchy BDSM novellas.
These stories are about meeting your sexy match, grasping life with both hands, and enjoying the wildest of rides. From ritualized and fetishistic pairings to spontaneous role playing, these are couples who click into place like the perfect set of handcuffs--offering one another the key to their desire with a willing hand--whether it be as a part of deeply romantic commitment, or the discovery of an exciting new sensual preference.
Includes: Running Wild, Mastering Meg, Ritual : shibari, Caught in the Act, Strangers in the Night, Hot on her Tail, The Cage.
Available in digi download from: Amazon, Amazon UK, iTunes, Kobo, and Nook. And in print via Amazon and B&N.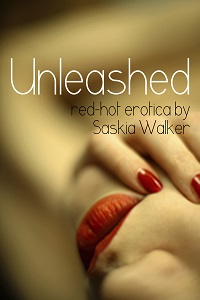 UNLEASHED contains twenty of the hottest erotic short stories from award-winning British author Saskia Walker. Known for her combination of solid storytelling and arousing content, Saskia's erotica has appeared in over one hundred international anthologies including BEST WOMEN'S EROTICA and THE MAMMOTH BOOK OF BEST NEW EROTICA.
Gathered together for the first time this collection contains some of Saskia's favorite short stories -- tales that run the gamut of erotic exploration from BDSM to voyeurists and exhibitionists, from fetishists to threesomes -- this is provocative, no holds barred adult fiction that lingers in the memory as well as the libido
"This collection of shorts give a great tantalizing peek into what Saskia Walker has to offer and the many different kinds of situations and plots are sure to please. Top pick!" --Night Owl Romance
"..a stunner of a collection, and gives readers a taste of why Walker is published by everyone -- talent, Eros and magic combine on each page of her writing." --Violet Blue
"Few people recognise that the short story is an art form distinct from the novel. Instead of seeing short fiction as a stand-alone art, they see short stories as a condensed novel: which is not how it works. Mastery of one form does not automatically suggest competence in the other. However, when you come across the work of a writer like Saskia Walker, you find yourself in the hands of an author who can proficiently write novels and short fiction and make either genre irresistible. Unleashed is a collection of short stories for the Saskia Walker aficionado. Written with Ms Walker's distinctive voice – never telling the story, always allowing events to unfold before the reader – Unleashed comprises a collection of twenty delicious erotic shorts all written by the inimitable Saskia Walker..." Dr Ashley Lister for Erotica Readers and Writers Association
Available in digi download from: Amazon, Amazon UK, iTunes, Kobo, and Nook. And in print via Amazon and B&N.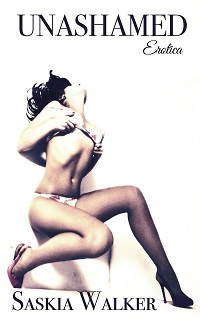 Let Saskia Walker take you on an erotic journey of discovery with eighteen red hot stories of love, lust, and blatant seduction. Titillating, tantalizing, and totally explicit, UNASHAMED delivers diverse sexual scenarios from first love explorations to forbidden rendezvous, raunchy threesomes to playful committed couples.
The characters in these stories revel in their sexuality—with delicious and climactic results.
Available in digi download from: Amazon, Amazon UK, iTunes, Kobo, and Nook. And in print via Amazon and B&N.
"I have said it before and I will say it again, Saskia Walker is the queen of steam and she does not disappoint her readers with this compilation of short stories in Unashamed. This time she has assembled eighteen of what have to be the hottest, most explicit and completely unusual tales that I have read in some time, stories that I am sure will become favorites after reading this book. The stories range from the macabre, to the strangely innocent, to D/s and anything in between; each one completely different from the next, illustrating Ms. Walker's mastery of the written word. This author is not presenting her readers with "cookie cutter" versions of the same stories over again, each one is its' own entity. Was I surprised? Certainly and, I was also more than pleased." You Gotta Read reviews.

Latest Blogposts

Powered by FeedBurner