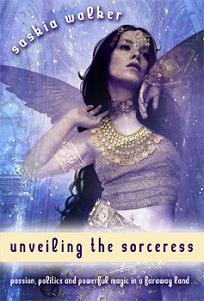 UNVEILING THE SORCERESS
An exotic fantasy romance novel
Juno Books Aug 2007 ISBN:0809557819
Elishiba, the daughter of the leader of Aleem, seeks to secure the land of her beloved people through a quest that harnesses her powerful inner strengths for the good of all. Betrothed to the ineffectual son of the evil Empress of Karseedia, her planned marriage is to be a symbolic pact sealed between Aleem and neighboring Karseedia. But nothing is as it seems.
Elishiba finds herself enmeshed in a growing web of political intrigue, a web where magic and romance weave their own vibrant and inexorable threads. Elishiba's love for a man considered an enemy may enable her to recognize her own inner powers... or contribute to the jeopardy she faces. Secret love and forbidden liaisons mix with the deadly implications of the enemy's plans in this sensual story of danger, passion and intrigue with the exotic allure of One Thousand and One Arabian Nights.
"This book was an absolute gem. I was absorbed into the tale from the very beginning and found it extremely difficult to tear myself away to deal with the mundane details of life, like eating, sleeping...I have enjoyed Ms. Walker's novellas and will definitely search out any other fantasy novels that she pens. Thank you for an amazing read." 5 stars and a recommended read! Serena, Fallen Angel Reviews
"Saskia Walker is a master at creating haunting beautiful images. The lush scenery of UNVEILING THE SORCERESS draws the readers into this mystical world. The eerie atmosphere makes one believe that sorcery really does exist as Ms. Walker brings this fantasy world to life. ...Saskia Walker proves with UNVEILING THE SORCERESS that she has a true knack for writing superb fantasy novels. I can't help but hope that she continues writing in this genre as I think she has carved her own niche here. Thank you, Ms. Walker, for yet another splendid tale from your talented and creative mind!" 5 klovers, Debbie, for CK2s kwips and kritiques
"Exciting action and heated passion describe many scenes found in UNVEILING THE SORCERESS, the highly imaginative fantasy by Saskia Walker that takes place in an exotic desert setting... It held me spellbound, awaiting the outcome. UNVEILING THE SORCERESS by Saskia Walker is full of great suspense and exciting action that made this book one that everyone will want to read." 4.5 blue ribbons. Anita, Romance Junkies.
"Saskia Walker pens a story of sorcery and romance complete with an intriguing plot. Unveiling The Sorceress is well written with the characters, mysterious godsend Amshazar and the proud ruling Elishiba highlighted. Ms Walkers' entertaining romance lets you see into another world...Will you keep writing for us please Ms Saskia Walker?"
5/5 and a Recommended Read! Dee, for Night Owl Romance Reviews
"The novel is a shining example of Walker's creativity and talent, and draws on the reader to participate emotionally during periods of loss and melancholy. It is evident that Saskia Walker has the ability to branch out and master many facets of literature." Breeni, for Front Street Reviews
Latest Blogposts

Powered by FeedBurner