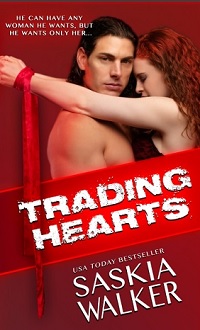 TRADING HEARTS ~ a contemporary erotic romance novel
Available from:
Kindle US
Kindle UK
iTunes
Nook
Kobo
Google Play
COVER COPY: In her master's arms she experiences pleasure beyond her wildest dreams…
Naomi Kildare, a young Scottish fashion designer, travels to London to meet a renowned fashion buyer, but when the buyer is called away she meets Lucas Eaglestone instead. Lucas is tall, dark, and masterful – and he wants Naomi. He is a direct man, and he asks Naomi to surrender herself to him, totally.
Lucas quickly unveils Naomi's true nature and at his hands she experiences sexual pleasures beyond her wildest dreams. She is enthralled by his physical and emotional claim on her, but she isn't willing to sell her own dreams in exchange for a decadent life as his willing submissive.
Lucas wants Naomi more than anything and he would pull the stars from the sky for her if she would agree to accept them. He vows to win her, but first he has to make some big changes to prove to her that their Dom/sub symbiosis is precious and worth fighting for.
Together they could be the perfect match but trading hearts is never that simple.
PLease note, this story was originally published in three parts: The Buyer, The Seller, and The Deal.
EXCERPT:
As soon as the door to his apartment clicked shut Lucas closed on her, pinning her up against the wall in the hallway, caging her there with his body.
Naomi trembled. She wanted him, but he'd flagged up some pretty intense sexual preferences, and she was flying blind on that score. Apart from some playful spanking she'd never played with a real Dom before. Everything he'd said had intrigued her and turned her on, big time, but she was stepping into the unknown.
Then he locked his hand around the back of her neck, his fingers moving beneath her hair, and ducked his head, kissing her hungrily.
The kiss, at last. She'd been thinking about it all evening, wanting it and imagining it. His mouth on hers melted her doubts away, instinct taking over.
She let go her bag and it fell to the floor. Her hands locked around his head as responded to him. With his free hand he hitched up her skirt, cupping her bottom in his hands, pushing aside her lacey underwear so he could touch her skin. She gasped at his forthright touch and her head fell back against the wall. When she did, he ducked his head to kiss her throat. His teeth grazed her throat.
"I want you so much," she murmured. She felt delirious as she said it. "Lucas, please... I really want this, but I'm a little afraid."
He drew back, pausing. "Don't be. I'm here to look after you."
She clung to him, swallowed, then nodded. There was no turning back.
"Tell me why you're here," he said.
"I'm here because I wanted to know what it'd be like, to be alone with you."
He nodded. "Show me how much you wanted that."
Naomi's pulse raced. She wasn't sure what he meant.
"Strip," he added, with a quick nod at her clothing.
The command fell from his lips so easily, as if he was asking her to take a seat. But the effect it had on her was devastating.
Can I do this?
It's what she'd come there for, to get intimate with him, and he was taking control of her, as promised, but she hadn't expected the simple but stunning one-word instruction.
The answer was that she couldn't walk away – she couldn't not do it.
Latest Blogposts

Powered by FeedBurner