THEIR PRIVATE ARRANGEMENT - a short historical erotic romance novella, June 2011, Spice Briefs
Available from
Kindle (US) and Kindle (UK). This story is also available in print for Australian readers in the MINE TO SHARE anthology.
Summary:
Scotland, 1715
Duggan Moore has always stirred maidservant Morag's womanly desires. Even though Duggan is in a clandestine relationship with James Grant, he wants Morag as well -- and James doesn't want to deny him any pleasure. Soon, all three are exploring their mutual passion ... together.
But officials have come to town to hunt an accused witch ... putting the threesome at risk. Can they find a way to keep their private arrangement safe?
Read more about Morag and her men in Saskia Walker's THE HARLOT.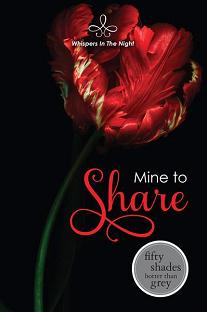 EXCERPT:
Duggan drained his glass and relieved her of hers once she had done the same. Taking her into his arms, he looked down at her intently. "The last time we spoke, you assured me that no man warmed your bed at the present time. Is that still the case?"
Morag's eyes rounded. "It is, but why speak of it now?"
Duggan ran his finger along the top of her bodice. The other hand was firmly planted against her back, holding her in place. "Would you like a man to warm your bed?"
There was mischief in his eyes, and Morag quickly sensed his intentions.
He rested a kiss in her hair and then added, "To warm where you want it most of all, perhaps...between your legs?"
With a quick intake of breath, Morag urged herself to respond well. She sought the right words and as she did she noticed that Mister Grant seemed quite attuned to what was being said, and watched with interest. Did he wish to observe them together? It was something she had experienced before -- the urge some folk had to look, rather than to partake -- but nevertheless she was surprised.
"Are you offering to take on the task?" She looked up at Duggan as boldly as she could, hoping that was the case...
Out now!
Latest Blogposts

Powered by FeedBurner