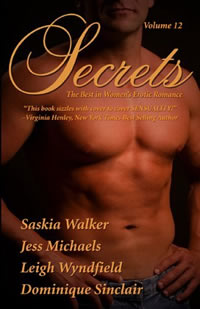 SUMMER LIGHTNING a contemporary erotic romance novella, appears in SECRETS vol 12.
ISBN:0975451626
Available from:
Amazon.com
Amazon UK
London sculptress Sally Richards thinks that she's in heaven spending an idyllic summer getaway on a secluded cove on the English coast, and when she spots a gorgeous Adonis walking naked on the beach, she knows she is! What more inspiration does a girl need to get her sculpting?
Marine Conservationist Julian Keswick needs a woman. When he finds a very attractive one shacked up in his cove, it's his manly duty to check her out. But what will Julian do when he finds out that she's secretly been using him as a model?

Scan down the page to see a photo of the coastal landscape that inspired SUMMER LIGHTNING!
"Saskia Walker's debut Secrets story is Summer Lightning. Set in England, it is a highly entertaining and delightfully steamy tale of a lusty holiday romance. The characters of Julian and Sally prove that opposites can attract and electrically so! Your bookshelf is not complete without Secrets 12! Accordingly, Secrets 12 earns 5 Angels and is a Recommended Read! Jane, Fallen Angel Reviews.
"SUMMER LIGHTNING is an excellent book that takes readers away to their own deserted island. The love scenes are sensual, passionate and readers will find themselves glued to the pages. SUMMER LIGHTNING is the first story that I have read by Saskia Walker, but I can definitely say that I will be on the lookout for more of her work in the future." 4.5 blue ribbon rating. Angel, Romance Junkies
"SECRETS VOLUME 12 lives up to the rest of the series with steaming erotica and a lot of wonderful imagination...The story I liked the most was Summer Lightning by Saskia Walker. Sally is an artist just looking for a private getaway. She found that and a whole lot more on the private beach behind the rental cottage. Julian really didn't like the idea of another person being on the beach, but he decided that he would introduce himself anyway. When he saw Sally, he had a change of attitude. All the while a storm brews both inside and out. I really recommend this book if you like steamy scenes and romance thrown into the mix. I can't wait for the next one." Barbara Boehler, Fresh Fiction
"Tales of looking for love in all the right places with a heat rating out the charts. 4.5 star rating – Fantastic keeper. A TOP PICK for July!" Faith, Romantic Times Magazine
EXCERPT:
Sally rested back in her seat and watched him moving along the cupboards, quickly glancing in each. He was so nonchalant about the fact he was naked, all but for an apron. How could she not love that? In fact, he seemed totally unaware of his body, completely lacking in self-consciousness. He was certainly unaware of how gorgeous he was and the affect he had on her. He had to be. She crossed her legs, savoring the rhythmic, ticking sensation deep between her thighs. She'd never met a man so at ease with himself. He was every artist's dream model. She wondered if he would model for her, during his stay. Just as the question permeated through her consciousness, he crossed the kitchen towards the far work surface, glancing approvingly at the cyber figurine as he went past.
"He's cool, I like the little man."
"Thank you."
Sally got the words out and then the smile on her face froze and she watched, horror struck, when his hand reached for the handle on the broom cupboard. She clapped her hand over her mouth. She'd completely forgotten about the torso when he'd started hunting through the cupboards on his quest for sugar.
"Hello, what have we here?"
She prayed he was talking about the broom. The dustpan and brush? Let it be the feather duster, please. But, no, he was bending into the cupboard, looking at what had to be her latest sculpture.
"This looks interesting."
Maybe he wouldn't recognize it.
He squatted down on his haunches and slid out the thin chipboard plinth it was resting on, to get a better look at the lump of clay formed around its mesh frame. "Why have you got it hidden away in the cupboard?" he asked, and turned back to her before she had a chance to do anything about composing her features.
She lowered her hand from her mouth, and laughed, nervously.
His brow furrowed, a half-smile still hovering. He glanced from her to the sculpture and back, a curious expression on his face. He turned the plinth slowly, looking at the clay.
She was speechless, what could she say? All she could do was hope that he wouldn't click. Maybe the floor would open up and swallow her.
"This is me, isn't it?" he said, still puzzled, but fascinated too.
Damn. She couldn't bring herself to deny it.
"But you certainly didn't have time to get up and do this between dawn and breakfast…so, when…?" He turned the plinth again, and looked at the hand, which rested on the rising cock, the thumb obviously working against it.
Oh no. That was such a huge clue.
He stared at it for what seemed an age and then pushed it back into its hidey-hole in the cupboard. He continued to look at it for another minute. Sally realized she was holding her breath and her lungs were about to burst.
He shook his head, and stood up, closing the cupboard, and turned to her. His expression was dark but controlled and his eyebrows were drawn down as he considered her.
She bit her lip. How upset was he going to be? How would she feel, if the tables were turned? She realized that it was an intrusion, she had intruded on his privacy, yes, and she shouldn't have worked on the model without his permission. What had she been thinking of?
"You were watching me on the beach the other day, weren't you?" His tone was stern, and he folded his arms across his chest while he contemplated her.
She felt like a naughty schoolgirl. "I couldn't help it." That sounded so lame. She'd made a conscious choice here. She had to defend it, and it was in her nature to do so. "I'm sorry, I just … well, you inspired me." She adopted what she hoped was an imploring expression. He took a step closer, his fingers tapping against his folded arms, his mouth tight. She'd blown it with him already. He was upset with her. She stood up as he approached.
She swallowed. "I'm really sorry," she added.
"That's not good enough." He frowned. "You'll have to be punished."
"Punished?" Her voice faltered. What had she got herself into here?
He grabbed at her wrist, drawing her in close against him. His eyes were gleaming, his hand strong and controlling on her wrist.
"Yes, punished."
She stared up at him, in disbelief. Then she caught a glimpse of the dark, expectant twinkle in his eyes. His mouth twitched to one side in a sardonic smile.
"Your face is a picture," he commented, and then broke into a laugh, the timbre deeply amused and satisfied. But he didn't let her go, not just yet.
"You devil." She gave a nervous laugh, her eyes wide with incredulity. He was teasing her!
"That's as may be, but you've still got to be punished."
She stared at him, disbelief spiraling inside her. Whatever did he mean by it, to punish her? Then, somewhere inside her an instinctive pang of anticipation suggested an answer to the question: did he mean to have her, for her naughtiness? On his terms, whatever they might be. Her heart began to race. She felt dizzy with confusion. He was having fun with her, but he also seemed intent on following it through.
He eyed her up and down with deliberation, as if the idea of it was very appealing to him. Clasping her waist, he drew her whole body up against him. If she had been in any doubt about his sheer physical strength, it was all too obvious now. She was easily captured in his grasp. For some reason it made her legs tremble and she felt the heat building between her thighs. He ran his hands over the outline of her breast, where her nipple jutted hard through the fabric of her t-shirt.
"I'll give you a thirty second head start, but I have to warn you, I'm fast on my feet."
As he said the words, he set her aside. He flexed his arms and knotted his fingers in a stretch, as if preparing to work her over. He nodded at the door.
She stared at him. He couldn't be serious.
"Thirty...twenty-nine… you're wasting time, anyone would think you wanted to be punished!" And then he smiled again, and the urge to spar rose up alongside the flood of anticipation inside her.
"If you can catch me, I'm pretty fast on my feet too," she retorted. She turned and headed for the door.
"Twenty-eight..."
She heard his voice as she bolted out across the grass bank that linked the cottage grounds to the edge of the cove. The grass was deep and springy beneath her bare feet, damp and lush from the overnight rain. Where she was headed, she didn't know; she just wanted to make space between them, to outrun him, to show him she was game for a joust as much as he was.
Punish her indeed.
She glanced back over her shoulder, to see him nonchalantly leaning up against the doorframe, watching her with a smile on his face. He was an absolute devil, taunting her like that. She turned back to her path and ran as fast as her feet would carry her, her breath catching in her lungs, her emotions flying somewhere between elation and trepidation. She squinted into the distance where she could make out the outline of his motorbike on the far end of the cove. If she could make it that far...she'd have proved a point. She dug deeper and found more resources, moving faster than she ever thought she could. Behind her, she heard him shouting after her.
He was on his way.
Available from: Amazon.com
Amazon UK
| | |
| --- | --- |
| | This is a photo of me on the north east coast of England, close to the place I set SUMMER LIGHTNING. Although the story is set at the height of summer, this photo was taken in March. The naughty smile might indicate the story is brewing! I hope you enjoy reading about this beautiful part of the country -- and Sally and Julian's love affair there -- as much as I enjoyed writing their story. Saskia. |
Latest Blogposts

Powered by FeedBurner