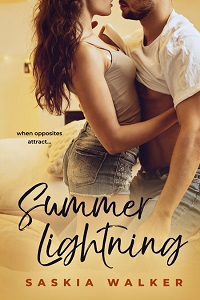 SUMMER LIGHTNING ~ an erotic romance novel
Available from:
Kobo
Apple
Nook
Google Play
Amazon.com
Amazon UK
and Amazon worldwide in print and digital download.
Cover by Beetiful Book Covers
Molly Delavine thinks she's in heaven spending an idyllic summer getaway on a secluded cove on the English coast, and when she spots a gorgeous Adonis walking naked on the beach, she knows she is. But what is this gorgeous guy doing on her private beach?
Coastal Ranger Julian Keswick is on conservation duty when he finds a woman shacked up in his favorite cove. He's fuming, and confronts her, but his natural instinct to protect comes to the forefront during an incoming storm.
As the wild summer storm brings these two opposites together, the natural elements take charge of their mutual destinies. But Molly has to return to her business world in London, and her wild holiday romance with a ranger is soon to become a memory. Opposites attract, but for two people so very different, is destiny one week, or forever?
Scan down the page to see a photo of the coastal landscape that inspired SUMMER LIGHTNING!
Please note: a short version of this story was previously published by Red Sage.
"a highly entertaining and delightfully steamy tale of a lusty holiday romance. The characters prove that opposites can attract and electrically so! 5 Angels and a Recommended Read!. Fallen Angel Reviews.
"SUMMER LIGHTNING is an excellent book that takes readers away to their own deserted island. The love scenes are sensual, passionate and readers will find themselves glued to the pages. SUMMER LIGHTNING is the first story that I have read by Saskia Walker, but I can definitely say that I will be on the lookout for more of her work in the future." 4.5 blue ribbon rating. Angel, Romance Junkies.
"...an artist just looking for a private getaway. She found that and a whole lot more on the private beach behind the rental cottage. Julian really didn't like the idea of another person being on the beach, but he decided that he would introduce himself anyway. All the while a storm brews both inside and out. I really recommend this book if you like steamy scenes and romance thrown into the mix. I can't wait for the next one." Fresh Fiction.
"looking for love in all the right places with a heat rating out the charts. 4.5 star rating – Fantastic keeper. A TOP PICK Romantic Times Magazine.
EXCERPT:
Molly hadn't seen another soul on the beach during the whole time she'd been there. The cottage had been advertised as having a private beach, and –so far—that's exactly what it had been. Who the hell was he?
Annoyed, she reached for her T-shirt and held it against her boobs, still lying close against the ground. The clumps of beach grass lining the top of the dunes gave her cover, but she wanted her T-shirt to hand in case she needed it. It really was a man, and he seemed to be alone.
A very attractive man.
He was tall and well built, with closely shorn hair, left longer on top. He wore loud shorts and a threadbare, faded T-shirt. He had the look of a beachcomber, but this was England and the only beachcombers Molly had ever seen were on TV, on Australian soap operas. His legs were corded with strong muscles, and she eyed them as an artist, and more, as a woman—a woman subconsciously hungry for such a sight.
Perhaps she'd been away from people too long. A few trips to the local village for supplies obviously wasn't enough to keep her in touch with the real world.
Torn between the urge to march over there and ask what the bloody hell he was doing on her beach, and the equally compelling urge to continue secretly observing him, she tried to figure out what to do.
Glued to the spot, the desire to continue observing took the lead.
As the moments passed she noticed again how supremely well built and attractive he was. She smiled to herself, watching as he kicked off his sports shoes and walked barefoot toward the edge of the shore.
As she watched, he walked into the water and dipped a long plastic tube into the surf. He lifted it and looked at it in the light, then sealed it with a plastic cap. She wondered what he was doing. He walked back to where he'd left his shoes and deposited the tube.
She could hardly drag her attention away, but it was her beach, it said so in the advert. Private, secluded beach, the perfect getaway. So what was he doing here? Who did he think he was? She had to remind herself she was from a city and things were different here. Along the wild coast in Northumberland roaming beachcomber types might be the norm. She was enjoying the privacy of the place though, and felt provoked to defend it.
Then he began to strip off.
Molly's eyebrows lifted, astonished as she was by his actions.
He pulled his T-shirt over his head, giving her a look at his perfectly shaped torso as he did so.
"Wow," she whispered approvingly.
If she was looking for inspiration, she'd surely found it today. He was a handsome specimen all right, gorgeous looking, and with a very impressive physique. The guy worked out, that much was obvious. He had amazing, powerful shoulders and a six-pack to match. He stood on the edge of the surf as if he owned it—it was as if Neptune himself had just walked out of the waves.
Molly's eyebrows shot up when she realized he wasn't stopping at the T-shirt.
He was busy undoing the tie at his waistband and was about to drop his shorts. She glanced around, half expecting to see somebody else running over to accompany him. But, no, he appeared to be alone. And she was trapped there, clutching her T-shirt to her chest as she observed him, unseen…
| | |
| --- | --- |
| | This is a photo of me on the north east coast of England, close to the place I set SUMMER LIGHTNING. Although the story is set at the height of summer, this photo was taken in March. The naughty smile might indicate the story is brewing! I hope you enjoy reading about this beautiful part of the country -- and Molly and Julian's love affair there -- as much as I enjoyed writing their story. Saskia. |
Latest Blogposts

Powered by FeedBurner