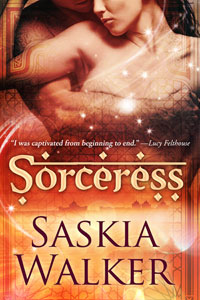 SORCERESS- a fantasy romance
Available in digital and print:
Amazon
Amazon UK
Nook
Apple
Kobo
Forbidden love, magic, danger and desire...
Young Empress Elishiba has vowed to protect her people, even if it means marrying an enemy. But when the mysterious man known as Amshazar arrives as a spokesman for her future husband, her passion is ignited. Amshazar is an attractive and powerful man who is rumored to be a sorcerer, and he is allied to her enemy. Consorting with him would be disastrous. Why then does she let him distract her from her goal?
Amshazar is a gifted magi and an envoy of the gods. Falling in love with the Empress Elishiba wasn't part of his plan, and yet he cannot resist. Their connection is vital, their desire undeniable—but their forbidden relationship soon captures them in a web of danger, a web where magic and romance weave their own vibrant and inexorable threads. As the enemy seeks to destroy Elishiba and all she stands for, Amshazar must fulfill his duty and empower her as a powerful Sorceress, whatever the cost.
"Saskia Walker pens a story of sorcery and romance complete with an intriguing plot. Sorceress is well written with the characters, mysterious godsend Amshazar and the proud ruling Elishiba highlighted. Ms Walkers' entertaining romance lets you see into another world...Will you keep writing for us please Ms Saskia Walker?" 5/5 and a Recommended Read. Dee, for Night Owl Romance
"This book was an absolute gem. I was absorbed into the tale from the very beginning and found it extremely difficult to tear myself away to deal with the mundane details of life, like eating, sleeping...I have enjoyed Ms. Walker's novellas and will definitely search out any other fantasy novels that she pens. Thank you for an amazing read." 5 stars and a recommended read! Serena, Fallen Angel Reviews
"Saskia Walker is a master at creating haunting beautiful images. The lush scenery of UNVEILING THE SORCERESS draws the readers into this mystical world. The eerie atmosphere makes one believe that sorcery really does exist as Ms. Walker brings this fantasy world to life. ...Saskia Walker proves with UNVEILING THE SORCERESS that she has a true knack for writing superb fantasy novels. I can't help but hope that she continues writing in this genre as I think she has carved her own niche here. Thank you, Ms. Walker, for yet another splendid tale from your talented and creative mind!" 5 klovers, Debbie, for CK2s kwips and kritiques
"Exciting action and heated passion describe many scenes found in SORCERESS, the highly imaginative fantasy by Saskia Walker that takes place in an exotic desert setting... It held me spellbound, awaiting the outcome. SORCERESS by Saskia Walker is full of great suspense and exciting action that made this book one that everyone will want to read." 4.5 blue ribbons. Anita, Romance Junkies.
"Saskia Walker pens a story of sorcery and romance complete with an intriguing plot. Sorceress is well written with the characters, mysterious godsend Amshazar and the proud ruling Elishiba highlighted. Ms Walkers' entertaining romance lets you see into another world...Will you keep writing for us please Ms Saskia Walker?" 5/5 and a Recommended Read! Dee, for Night Owl Romance Reviews
"The novel is a shining example of Walker's creativity and talent, and draws on the reader to participate emotionally during periods of loss and melancholy. It is evident that Saskia Walker has the ability to branch out and master many facets of literature." Breeni, for Front Street Reviews
"While this is Walker's second romantic fantasy, Walker is no stranger to the writing world. She also writes erotica, and it certainly shows in this book. The intense desire felt by Elishiba for Amshazar is tangible. There's also the lovely touch of sexual culture in this book. Walker doesn't treat sex as any sort of taboo in this culture, nor does she make a big deal out of the sex scenes there are. Oh, sure, Hanrah's mother is furious over his relationship with Kazeen, but not because she's homophobic, but because he's the Emperor and must produce heirs. In some ways, this book reminded me of a far less complex version of Kushiel's Dart. Well, without the pleasure-as-pain comparison." Review by Calico Reaction.
"Sorceress is a fabulous read. Although its categorisation as an exotic erotic fantasy romance is a real mouthful, it's totally apt. I was captivated from beginning to end. I loved the setting, the characters, the intrigue and the eroticism. It wasn''t just "a story with sex", it was a genuinely captivating tale which I found really interesting and absorbing. It''s a little like Aladdin with more evil and sex, I guess. An absolutely top-notch read. If you're looking for something a little different, definitely give Sorceress a try. Hats off to Ms. Walker." Reviewed by Lucy Felthouse Erotica for All
Excerpt:
Elishiba paused to inhale the heady scent of the courtyard flowers before returning indoors, and it soothed her. Walking down the shady corridors towards her chambers, she was about to turn the final corner when a voice drew her attention.
"Empress Elishiba?"
Drawing to a sudden halt, she saw Amshazar standing in the shadows of a side passage. His eyes were almost totally concealed in the darkness, yet he seemed to be scrutinising her. He'd been waiting there for her, she was sure of it, and he had only emerged now that she passed. In what way was that an honourable approach? Yet she could not help being lured, her lingering arousal muddling her thoughts. Glancing ahead, she could see around the corner to where the Sentry guarded her chambers. A shout would have the soldier by her side within a heartbeat.
She stood her ground.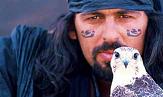 Amshazar stepped out of the shadows.
How at ease he was, she noted, as he walked towards her. His carriage was almost noble, and yet she sensed no falseness in his manner. Sudden, dangerous curiosity fired her blood as he drew close.
"Are you in need of assistance?" she asked.
"Forgive me for startling you by my approach. I sensed that you were concerned about the tutoring Sibias suggested. I felt I should speak to you on the matter, privately."
She was bemused by his remark. Even a blind man would have known she had reacted badly. "I am concerned, yes. Should I not be?"
"Empress, you are understandably wary of us. The history is difficult to overcome." He gave a quick smile. "I only wish to put your concerns to rest."
"Go on." She lifted her eyebrows in enquiry, and waited for him to continue.
His very proximity drew her into perilous games. She knew she should walk away, but there was something so compelling about him. It would not allow her to pass up the chance to speak with him alone.
"Sibias plans to discuss the customs of Karseedia, to prepare you." He paused, deliberately. "For my own part, I have my duty to my friend, Hanrah, to fulfil." His voice was a low whisper, and he stepped closer again. He had only to reach out his hand, and he could touch her.
Her heart raced.
"I also wish to know you better," he added.
His simple, bold statement startled her. She glanced at the sentry down the corridor, then back. "Why would you wish to do that?"
He smiled, one corner of his mouth lifting. It was dangerously seductive. "Curiosity rises between us, teasing us both, does it not?"
There was no mistaking his meaning, and she could not hide her surprise. Her breath came ever quicker. Heat rose in her face.
"I am curious about all things," she retorted. Even if she had wanted to, she could not have walked away. The intimate nature of his bold stare made her skin tingle with awareness. Her lips parted as she looked at the firm line of his mouth, unbidden desire for his kisses coursing through her. Why, why do I want him so?
Memories of the dream she had experienced the night before flitted through her mind, arousing her all the more. He had carried her as if he owned her, as if he was taking her to a private place where he planned to claim her and couple with her. Wayward desires had caused her to imagine herself enslaved to him that way, and heat rushed to the surface of the skin as she recalled her heated reaction. The need to seek release while his image burned through her mind, body, and soul, was undeniable.
She moved further into the shadows with him, and she did it for his protection— because she was acutely aware that the guard might discover him there with her, and raise the alarm. Why am I protecting him, she wondered, vaguely.
The space between them was negligible and he touched her. He stroked her jaw, lifting her chin with one finger. His eyes were on her mouth. The kiss—oh, how she longed for it, and her body arched to his. When his mouth covered hers, she did not resist. The firm, persuasive pressure of his lips on hers made sensation race through her, and it pooled in the pit of her belly, where it kindled a fire. That fire rapidly flared as she put her hands against his chest, making contact, inviting him closer still.
When he stroked her hair and cupped the back of her head, her lips parted under his.
With desperate hands she clasped his shoulders, admiring their strength as his tongue thrust into her mouth. Their kiss became more fevered, and she moved her hips against his, unable to stop the natural course of desire.
With a muted groan, he moved her up against the wall and pressed more firmly against her. The hard planes of his hips and thighs made her weak, but that was nothing to the rock hard rod of his erect manhood, which was now pressed against her belly through their clothing. Her body clenched, eager for the thrust of that hardness inside her. Between her legs she was hot and damp, ready for him. Her hands moved down to embrace his hips, holding him tight against her. He was an enemy, and yet all she could think of was wishing away their robes and being naked under him.
When they pulled apart he stared down at her with a searching gaze.
"This is wrong," she whispered.
The possessive look in his eyes denied her comment. "It is complicated, yes, but I do not believe for a moment that either of us feel that was wrong."
It was true. Her heart beat wildly and the physical elation she felt was only just tempered by everything that she knew, what she had been taught about how to act as an Empress, and her goals to secure the future for her country. Not only did she want an enemy, but he was her future husband's representative. How could it be that she wanted this thing that was so far from what she should be thinking, acting, and feeling?
He was about to say more, she knew it, but then he paused and without warning his expression became masked. He pulled away, glancing around as if he thought they were being watched.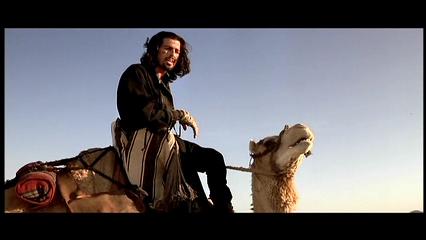 ***
Latest Blogposts

Powered by FeedBurner