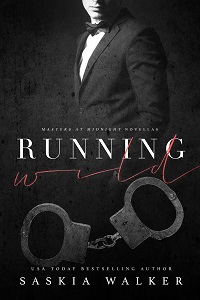 RUNNING WILD ~ a Masters at Midnight novella
Available to download:
Kindle UK
Kindle US
Apple
Nook
Kobo
SUMMARY:
When corporate executive, Tomas Flint, challenges his solicitor Alexa Wainscott to a back-to-nature sexual interlude, she envisages a hot tryst in the long grass. She's always been intrigued by Tomas, and agrees to his challenge.
But Tomas has hidden depths, and Alexa soon learns that he means to set her free in the wild, then track and hunt her down in the forest, capturing her, introducing her to the untamed sexual persona that exists inside them both.
Please note: This story contains sexually explicit scenes incuding bondage and domination, chase and capture, and graphic language which may be considered offensive by some readers.
EXCERPT:
"The forest awaits." Tomas drained his glass, set it down and then gestured at the wooded landscape beyond before opening the car door and climbing out.
Alexa took a quick look at the chauffeur as she stepped out of the car. He kept his gaze averted, a model of impersonal behaviour. After he shut the door, he returned to the driver's side, standing by the car but looking off into the distance, leaving them alone.
Tomas took her hand. "Ready?"
She nodded, even though she had no clue what she was agreeing to be ready for. He led her on. The horizon was thick with clustered oaks and beeches. Ahead, tall ash trees lined the path and the grass beneath them grew dark and lush compared to the clearing where the limousine stood. The heat shimmered outside of the air-conditioned car, and the gloom in between the trees ahead looked inviting. Tomas led her twenty feet or so into the woods then drew to a halt before they reached the shade of the denser trees. He reached into his pocket and drew out a strip of black velvet, which he held between his hands and pulled taut.
"I would like to blindfold you." He looked at her for a reaction.
She could scarcely breathe, let alone respond verbally. She stared at the cloth and then back at him. "Is there a specific reason why?"
"Yes." He smiled, apparently impressed by her question. "It will help you engage with the location. Blindfolded, your other senses will be stimulated, and you will quickly learn about the place that surrounds you. I'll stay with you while you do that."
Stay with me? What the hell did that mean? He couldn't mean to leave her alone, not now he'd got her out here and fired up for a good shag.
"The whole time you are blindfolded I will be close by. When I feel you are sufficiently prepared, I will tell you to take the blindfold off and you will begin to walk in the direction ahead of you."
"You won't be with me?"
Tomas smiled. "Alexa, I am only setting you free because I intend to hunt you down and catch you."
Her legs went weak under her. "Ah, I see."
His eyes glittered, his expression filled with essential male power. "You are my prey, and a very worthy prey you are." He traced his finger over the place where her erect nipple lifted the fragile fabric of the dress she wore, making her squirm.
He lifted an eyebrow. "Any questions?"
Reader Advisory: This book has hot and steamy bondage, domination, chase and capture.
Latest Blogposts

Powered by FeedBurner