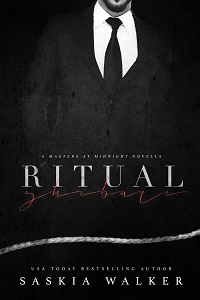 RITUAL - a short contemporary erotic romance novella in the MASTERS AT MIDNIGHT series.
Due out 10th April 2018. Available to preorder from online retailers: Amazon.com, Amazon.UK, and Amazon worldwide. Barnes and Noble, iTunes, and kobo
Summary:
High-powered executive Imogen prides herself on being an independent woman who doesn't need a man. She only yields when she's with Giles, a younger colleague who shares her taste for domination and submission. He revels in watching her lose control, while she enjoys his powerful nature and an edge of pain to heighten her pleasure.
Imogen is satisfied with their secret arrangement until Giles asks her try shibari, a form of rope bondage—the ultimate ritual in submission and display of trust. His request pushes Imogen beyond her comfort zone, forcing her to explore her boundaries and her relationship with Giles. He's already her master in the bedroom, when she allows it. But can she let herself take their bond to the next level?
EXCERPT:
First he took off her jacket, then he unzipped her fitted dress, peeling away the outward signs of her everyday life. "This is what I want," Giles stated as he undressed her, "the real woman beneath the high-powered persona you adopt for work" Humor and passion glinted in his eyes. "It's pretty hard to get past it, you know."
"Giles, please," Imogen murmured, embarrassed by what she knew to be the truth. He had a way of exposing her in ways she hadn't considered possible. "I need you."
He paused and smiled. Slowly, he shrugged off his jacket and undid his silk tie, then traced his finger around her erect nipple. Even through the sheer fabric of her black lace bra the touch was electrifying.
Imogen's legs trembled, her body hot with anticipation as Giles toyed with her. He squeezed the sensitive nub firmly between thumb and forefinger, looking deep into her eyes while he lit her right through with that deliberately provocative touch. Imogen leaned toward him, her lips parting with the need to have his mouth covering hers while he touched her.
But Giles continued to take charge. He undid her bra, dropped it to the floor and then went for the handcuffs that he had left on the nearby dining table. Capturing her wrists in one hand, he clicked the cool metal into place, making his claim on her. Then he stepped away.
She swayed unsteadily on her high heels, uncertainty swamping her.
Latest Blogposts

Powered by FeedBurner