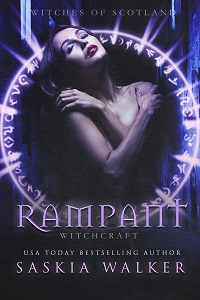 RAMPANT - an erotic paranormal romance set in Scotland.

Available in print and digital download:
Kindle US, Kindle UK, Kobo, Nook, and Apple
Available in translation:
French: Kindle France, Kobo, Nook, and Apple
Italian: Kindle Italy, Kobo, Nook, and Apple
Cover art by Daqri Bernardo at Covers by Combs.
He'll have a devil of a time resisting….
Grayson Murdoch only has one thing on his mind. Saving the Scottish fishing village of Carbrey from the dark magic of the local coven. At least he did only have one thing on his mind, but not since Zoe Daniels moved into the cottage next door. Now he thinks about her much more than he should…and for a witch like Grayson that means sexmagick abounds. But there's something odd about his gorgeous neighbor, and something sinister going on in that house. Something that might test his craft as a witch and test his control as a man.
A possession so strong…
Zoe Daniels has dreamt of a restful stay in Scotland for years. But Zoe's peaceful trip is anything but. As soon as she arrives she's haunted by erotic visions, visions so vivid she can barely look her sexy neighbor, Grayson, in the eye. However it's more than just dreams. There's real danger in Carbrey village, and though she keeps telling herself she doesn't believe in ghosts and witches and black magic, she can't deny frightening things are going on all around her. If the rumors about her haunted cottage and the witch who lived there are true, the least of Zoe's problems is her insatiable lust for Grayson.
RAMPANT recognition and reviews:
* Nominated: RT Magazine Reviewers Choice Awards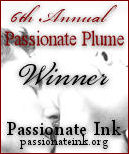 * Winner: Passionate Plume Awards
* Finalist: CRW Award of Excellence
* Finalist: Write Touch Readers' Award
* Nominated: 2 Bookie Awards
"Imaginative, sizzling-hot and by turns creepy and humorous, this one is definitely not to be missed. Hero Grayson is simply delicious -- and like the book, irresistible!" 4.5 stars and a Top Pick for April 2010 at RT Magazine!
"Rampant is by turns sexy, erotic and dark, and it kept me enthralled, page after page. ..To say I loved the ride this book took me on is an understatement. When I had to put it down I thought about when I could go back to Carbrey and see what would happen next; and when I finished it I wanted to read it again, just so I could absorb more of the story. If you enjoy books that explore the darker side of love you'll savor this one. I know I relished each sexy, dark angsty moment. Rampant is definitely a keeper for me, and a Joyfully Recommended title. Joyfully Reviewed
"Rampant is suspenseful, sexy and exciting. Ghosts, witches, white magic vs. dark magic and true love combine to make a page turner that's hard to put down. ... Rampant is a thrilling hot read that's just the thing for a cold night." 4.stars from Manic Readers
"This book pulled me in so completely I didn't even notice how uncomfortable my computer chair was. I was drawn to this book because of the paranormal aspects of the book. I'm not even sure how to describe this book except to say, it sizzles!" Love Romances Review Blog
"The characters are complex, rich, and wonderfully developed. The villain is truly a villain, you can just tell, he is just a bad guy. On the other side, the protagonists are everything that is supposed to be a romantic protagonist couple, and a super hot one, like sizzling hot, at that. I'll take a leather wearing, ripped, book reading, motorcycle riding, all around delicious author to save my butt any day of the week. I again, L-O-V-E this book and I will read it over and over, it is now snug on my favorites shelf." 5 stars Bibliophilic Book Blog
"I really enjoyed Rampant. Right from the off there's a sizzling undertone of sexuality which continues right the way through the novel. It's never off the boil! I've read lots of erotic supernatural books and stories, but never one about witches – and this one was a breath of fresh air. With sex scenes so hot you want to climb right on in there and join in, and spooky bits that'll have you looking over your shoulder, there's never a dull moment in Rampant. It flows beautifully and is a real page turner – I can heartily recommend this to any fans of erotica, the supernatural, or indeed, both." 5 stars Lucy Felthouse Good reads
"This book pulled me in so completely I didn't even notice how uncomfortable my computer chair was. I was drawn to this book because of the paranormal aspects of the book. I'm not even sure how to describe this book except to say, it sizzles! I never thought of myself as a blusher when it comes to reading erotica, but I must say I found myself doing that a lot while reading this great story…If I had this book in paperback form I think I would have devoured this book in one sitting. It's one of those books that just pull you right in. I wasn't prepared for how well, sizzling the love scenes were-but you know something, they all fit with the story…This book also has flashbacks from Annabel's life, and I have to say I loved that storyline-and the paranormal aspect of just made the story that much more compelling. If you are squeamish when it comes to steamy (and I mean steamy) love scenes in your romances, I'd stay away from this book, but if you're like me a like a good steamy sizzling love scene then I highly recommend this book for you!" A Buckeye Girl Reads
"This was the perfect blend of suspense, mystery, magic, and just enough hot steamy sex to keep everything interesting without overwhelming the plot. I enjoyed how I was kept guessing until the very end -- not that it wasn't clear who was the ultimate bad guy in the situation, but I loved how his followers actually seemed to be humans with very real questions and desires instead of just being dead-eyed flunkies in it for the kicks of being evil. For that matter, even the big baddie comes across as deceptively human and sympathetic at times. Walker weaves a tight tale, not only keeping all the elements of a good mystery in line, but also retaining all the good parts of mundane living: food, eating, family, and of course, the rousing sex. With this on the bookshelf, I know I'll definitely be looking forward to more of Walker's novels in the future. Sex and magic -- what's not to like?" 4/5 Night Owl Romances
"As far as the story goes, I am actually pretty impressed. It's not everyday that a book takes me to a European country with a spectacular view of the sea and coven of Witches living such debaucherous way….Rampant is definitely recommended for the lovers of erotica with paranormal elements in their character. A hot book. Smut at its finest." 4 stars Peace Love and Pat book reviews
Excerpt: (NB: adult content)
Shore Lane was dark and filled with mystery, and yet it was Shore Lane that called to Zoë. She was thinking straight again, and she knew what she wanted. Grayson was at her side and he held her attention now. Behind them, at the far end of the bay, it was brightly lit and the sky above still glittered with incandescent stars, but she was barely aware of all that any more.
They were almost at Her Haven, and she paused. Lifting her chin, she studied him, her pulse kicking up a notch as she did so. There was something contained about him, something invincible. It was incredibly attractive. She looked him in the eye. "What was all that about, back there?"
"Power." He said the one word simply.
His answer made her smile. "I thought as much." There it was, that mischievous echo inside her. Earlier it had made her feel dizzy and strangely out of control. But not so much, now. Not here in the dark on Shore Lane.
I can have him. The knowledge was astonishing to Zoë, and yet it was sure and solid inside her, driving her on to take action. She was aroused. She needed fulfillment. He was an attractive man, and she wanted him. Gone was the resistance she might have felt about getting it on with a man she'd only met that day. Something else had taken its place--something that had wrapped itself around her and melted into her very core, making her vital and alive. She gestured at the cottage. "I appreciate you walking me back. Please, come inside."
A moment later, she heard him closing the door, and then came the slow, solid sound of the bolt sliding home. A ragged sensation ran up her spine, as if something had shifted between them, some balance of power.
Tension emanated from the place where he stood. She reached for the light. It flickered on but was nigh on useless, casting only a small pool of amber light in the gloom. Beyond it, moonlight funneled onto the stairs from a window on the landing above.
Grayson stayed in the darkness by the doorway, but she knew he was watching her as she walked toward the stairs and turned to face him. It struck her then that he always had a purposeful stance about him, and ever since she arrived in the village--hell, even before she had arrived--he'd been there. He'd sparred with the postmistress, and then he'd turned up and competed with Cain Davot over her. Whilst that had it its own appeal, she couldn't help wondering why.
Maybe he just wants to fuck, like I do.
It was a blunt, wry realization, something she knew for a fact she'd never consciously thought before, and it embarrassed her, but she couldn't deny it. It made her curious her, though, and she had to ask. "You always seem to be around when I might need help."
He stepped out of the darkness by the doorway and closed the space between them inside a heartbeat, making her breath catch in her throat. Lifting her chin with one finger, he looked deep into her eyes. "Is there something specific you need my help with, Zoë?"
His eyes flashed in the gloom.
She swallowed. His touch had started a riot amongst her nerve endings, and her sex clenched, needy and urgent. A moment before, she'd felt reasoned, back when she'd been focused on getting him inside the house. Now, his very proximity was washing that away.
"Your company," she mustered, "I've been hearing some strange stories about this house."
It was partly the truth.
Mostly she wanted to have sex.
"It has quite the history, that's for sure." He was watching her closely, unsurprised, fascinated even. "And something about the place leaves an imprint on visitors."
"Is that part of your study?" Even as she said the words, the urge to chuckle rose up inside her. Of course it is. He can't wait to get inside and check the place out. The thought came out of nowhere, and she wondered how she knew that.
"I'd appreciate a chance to inspect the house...and its current occupant." One corner of his mouth was lifted, humor and desire lighting his expression. His hand moved, sliding briefly down her throat and around one shoulder.
"The house, and me?"
"Mostly you."
His breath was warm on her face, and her head dropped back to take his kiss. His mouth was firm and persuasive, and when she melted and moved against him, it became more demanding. Exploring her with his tongue, he tasted her first around her lips, and then deeper, thrusting his tongue in to the warm softness of her mouth. The action was rhythmic and slow and filled with erotic promise. And then his hand was under her skirt. He broke the kiss and looked down at her while he closed his hand over her pussy through the thin lace of her knickers and squeezed.
A soft moan escaped her, she couldn't help it.
He gave a dark chuckle, glancing down at her nipples where they were hard under the sheer fabric of her dress. "The heat coming off of you is fascinating me right now." His expression grew serious. "Because it's not just in here..."
Again he squeezed her pussy, making her whimper and shuffle her feet in response, darts of sensation assailing her groin.
"It's all around you, it's so big it's filling this house, and I want to know why..."
Latest Blogposts

Powered by FeedBurner