LATEST PUBLICATIONS:
These are the latest publications from me.
IThis summer, GOING DOWN, my 2012 Spice Brief was published by Harlequin Mills and Boon as part of the 12 SHADES OF SURRENDER showcase. It appeared as an individual kindle book, as well as in print collections in the UK and the US. In Italy my story FORBIDDEN RITUAL was selected to be part of the Italian translation. Click on a cover for more details.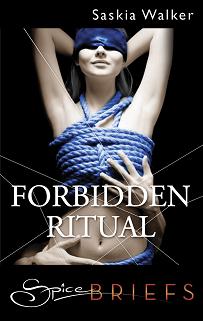 In June 2012 a new Spice Brief was published by Harlequin. FORBIDDEN RITUAL is a romantic shibari story, a tale wherein rope bondage represents the ultimate bond between a man and the older woman he is devoted to -- a lover who will not relinquish herself fully to him. Here's the cover and copy:
High-powered executive Imogen prides herself on being an independent woman who doesn't need a man. She only yields when she's with Giles, a younger colleague who shares her taste for domination and submission. He revels in watching her lose control, while she enjoys his powerful nature and an edge of pain to heighten her pleasure.
Imogen is satisfied with their secret arrangement until Giles asks her try shibari, a form of rope bondage—the ultimate ritual in submission and display of trust. His request pushes Imogen beyond her comfort zone, forcing her to explore her boundaries and her relationship with Giles. He's already her master in the bedroom, when she allows it. But can she let herself take their bond to the next level?
Go here to find out more and read an excerpt.
In February the third book in the Erogenous Zones series, FAYE'S SPIRIT, was published by Total-E-Bound.
One outrageous weekend with two men, that's what Faye Evans dreams of, but when she meets Jai and Garth -- and their live in ghost -- she gets much more than she bargained for.
Faye Evans is a woman on a mission. Both her older sisters have had menage a trois relationships and now Faye too harbours a desire to sample the pleasures of two men, if only for a single wild weekend. The opportunity arises when architect Garth Connor calls her in to investigate the ghostly presence in his business premises. Both Garth and his business partner, Jai Nilson, are gorgeous hunks, and Faye can't help being attracted to them.
Garth and Jai are friends and colleagues but their relationship is competitive. When the mischievous ghost medium walks into their life and shows interests in them both, the edge between them sharpens. While Jai often walks on the wild side, Garth has never shared a woman before, but his desire for Faye makes him rise to the challenge. Especially when Jai quickly picks up on Faye's secret wishes and pushes things along, orchestrating their interactions until the simmering eroticism between them demands hardcore action.
But Faye's fling isn't as straightforward as she'd anticipated. She soon worries that she's endangered Garth and Jai's friendship by getting involved, and even more so when the shadow of a secret, long held grudge between the two men falls over their threesome and their growing affection. To top it all, dealing with the resident ghost only adds to the emotional entanglement, making Faye feel she wants to end it and run. But are Garth and Jai about to let her get away?
Go here to find out more and read an excerpt.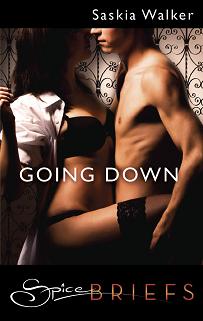 January brought publication day for GOING DOWN - a short contemporary erotic romance novella, published by Spice Briefs
He was a confident man, subtly commanding, too. Would he be like that as a lover? Yes, I just knew he'd be masterful.
Jennifer hoped she'd meet someone during her six-month stay in Paris, but she didn't expect to find a captivating man like her neighbor Armand Lazare on her very first day. From their initial encounter in their building's antique elevator, he makes her feel wanton, excited and unexpectedly aroused by the way he takes control. But as much as this new desire unnerves Jennifer, she's even more eager to explore it -- with Armand as her master.
Go here to find out more and read an excerpt.
Latest Blogposts

Powered by FeedBurner
Featured books
Non-Flash Users:...alternative non-flash text here for browsers that dont support styles, nor objects of any kind...you might add a description of what this feature does or a colorful static graphic