EROGENOUS ZONES is a contemporary erotic romance series about three sisters who have psychic abilities, and the very special men who love them.
Monica, Holly, and Faye, have more in common than simply being sisters. They are all psychics, each with an ability that manifests in a different way. For busy London girls finding the right man in the city isn't always the easiest thing to do, especially when you have a psychic skill that ties in to your sexuality!
Over the course of a year each of the Evans sisters discovers that two men can handle what one lone man can't. In three deliciously decadent ménage à trois affairs, the sisters fall in love with men who not only want them with a passion, but learn to love their psychic skills as well. Step into the Erogenous Zones with Monica, Holly, and Faye.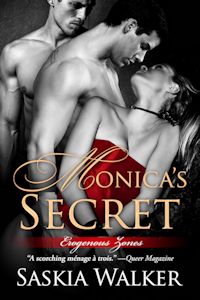 First in the series is MONICA'S SECRET.

Available in print and digital download:
Kindle US
Kindle UK
Kobo
Nook
Apple
Google Play

Willingly bound and seduced by two masters...
Two men have walked in to Monica Evans' life, and it isn't ever going to be the same. Owen Clifford and his lover, Alec Stroud, are investigating fraud at Monica's place of work, a luxurious London hotel. From the moment they meet, the chemistry between the three of them is off the scale.
But Monica has a secret, and it isn't anything to do with fraud. Like her sisters, Monica is a psychic. In Monica's case the gift is psychometry—when she touches objects or people she can experience their sexual history. Can she ever truly share that with a lover, let alone two bisexual lovers? Something about Owen and Alec captures her though, literally. Willingly bound and seduced by two masters, Monica opens up to them, physically, emotionally, and psychically.
Owen and Alec have been looking for their third and they believe Monica might be the one to complete their lives. But Monica's secret isn't the only barrier these two have to break down in order to win their woman. Fraud, duplicity, and mysterious threats add to their complications. For Owen and Alec, the challenges are stacking up and the race is on.
Reader Advisory: This book contains bondage, domination, MFM and MM scenes, and anal play.


"'Monica's Secret' is a sensual voyage into Monica's paranormal view of the world, including mystery, intrigue, suspense, and a scorching, sexual ménage à trois. What makes this ménage so exceptional is Saskia Walker's brilliant blend of physicality, trust, and vulnerability. I highly recommend 'Monica's Secret' to anyone wanting to be swept away by a great story with strong, believable characters, a touch of the paranormal,and last but certainly not least, scalding hot sex. You will not be disappointed." Reviewed by Queer Magazine.
"I loved Monica's Secret...The plot is believable and has enough twists and turns to keep the reader actively involved in both the love story and the mystery...If you are cool with ménage and enjoy a good mystery and a smoking love story, this is a great book for you. 4.5 Ravens." Reviewed by Blackraven's Reviews.
"The energizer bunny of sexual tension is the best way to describe Monicas Secret...What a new twist on the whole psychic plane with a nicely laid out plot of secrets, lies, lust, and love. Even though it has some hot scenes in it and keeps you fanning yourself all the way through, it is not a hastily tossed together story so there is a lot of meat between the covers. If you are looking for a hot -- and I mean hot -- erotic story then this book is for you. It's one that I will be reading again myself." 4.5 stars from Myrtle at Whipped Cream Reviews.
"I was totally consumed from the very beginning of this book. Not only are the characters likable, smart and hot, their sexual encounters were off the charts...wow! The cherry on top was that there was actually a story I was interested in and I truly wanted to know the outcome. I just can't say enough great things about this book. I really encourage you to get it if you are even a little intrigued by menage." A Top Pick at The Romance Reviews.
"'A great read. 4.5 stars." Reviewed by Sensual Reads.
"In Monica's Secret this wickedly hot story will take you down a path that is full of twists and turns and oh so hot lovin' by two hunks. This is not your typical boy meets boy who wants girl erotic menage. I could truly feel the romance between all three of the characters and loved every page!...So if you like hunks, handcuffs, and a good mystery add Monica's Secret by Saskia Walker to your collection today!" Rated 4 Delightful Divas by Lily at Dark Divas Reviews.

Excerpt:
Owen had held onto her hand for so long that she couldn't stop the heady and intimate knowledge of this attractive man entering her psyche. Not only was his sexual history thrust upon her, it was so vivid that it instantly fired her libido. Owen Clifford was a dominant, a sexual adventurer, and he sometimes played with men as well as women. When she had looked down at his hand she saw that hand on his assistant's shoulder. She saw it on his naked back, and then moving lower. Too much. She'd been about to demand he let go when he finally did.
When she was introduced to Alec Stroud he was easier for her to cope with, but his sexual energy was fierce, nonetheless. Could it be true? Were they both bisexual? If it hadn't been for her peculiar talent, she never would have guessed. And now she was fascinated. She shouldn't be, but she couldn't help it.
It was when they were on the second floor of the guest rooms that she got her chance to find out for sure. She was behind them while they looked into a standard guest room, and Alec went for his hip, pocketing the visitor's ID card he'd been issued. When his keys dropped out of his back pocket, Monica couldn't help herself. It was a split second decision, but she wanted to know. She dropped down and scooped them into her palm. They were warm from his pocket and as she straightened up, she opened herself to them quickly, before he had a chance to turn around and take them back.
She saw the two men either side of a desk in an office. It was the end of the day and the place was quiet. Owen was seated, powerful and attractive as he considered the man on the other side of the desk - his lover, Alec. Alec was tense, waiting for instruction. Owen laid a key on the desk between them. Monica's hand closed over the keys in her palm. It was a key to his house, and Alec would go there later, with a woman. They both made love to her, and after she'd gone they'd taken a shower together. An image of Alec with his face to the tiles - sudsy water running down his muscled back - flashed through her vision. Then the sounds of his pleasured moans echoed through her mind.
"Thanks."
Monica's head jerked up when she heard Alec's voice.
He lifted the key fob out of her palm and pocketed them, his expression curious. She smiled and tried to pull herself into shape. She felt like she'd had too much of a good thing today, overdosed. She'd only seen the briefest of images, but the relationship between them and what happened afterwards was far too ready to burst through. She tidied her collar and walked on down the corridor. When she knew they couldn't see her, she smiled. Now she knew for sure. They were lovers, and they shared women.
When they reached the service elevator, she pressed the button and tried not to stare at them. "The majority of the next floor is given over to the gym and spa facilities. We can grab coffee in the after-sports bar there, if that suits you both?"
"Sounds good," Owen confirmed as they entered the elevator.
It wasn't until the doors slid shut that she realised this was the first time the three of them had been entirely alone, and it was in a small, private space. The east end service elevator was the smallest of the range, only big enough for two housekeeping staff and one trolley. The mirrored walls only served to fill her vision with the two men who accompanied her. Her pulse responded to their proximity. She quickly pressed the button.
The lift moved and then ground to a halt and juddered dramatically.
Monica's stomach knotted. "Not now," she murmured under her breath. Please.
"Problem?" Owen asked.
"This service lift has been troublesome these past couple of weeks." She'd made it a priority and had assumed it had been fixed. This was all she needed while she was showing them around. A black point against her name, for sure, not to mention the fact she was now stuck in here with them. "It's one of the older mechanisms in the building. We're about to have it replaced, but it's important that all features - even those predominantly used by staff - fit the old world specification of the hotel."
She pressed the alarm button and flicked open her phone. To her dismay, maintenance had voicemail on. "Monica Evans here. The service lift has stalled again. I'm in it with two very important visitors from headquarters. Please get down here as soon as possible."
"They won't be long," she said as she disconnected, and hoped that would be the case. She forced a smile and wished that she could get a grip. Too much input today. No one's fault but my own.
Owen rested his hands in his trouser pockets and shrugged his shoulders. "It'll give us time to talk. Perhaps you can help me out."
Oh great, he was pleased they were stuck in here. Her smile tightened. She would prefer it if they talked as they walked. Luck was against her on that score. She fiddled with the phone at her belt, then her electronic notepad, trying to distract herself from his looming presence and their close proximity in the limited space of the stalled lift. "You're the ideas man. What is it that you want, Mr. Clifford?"
"Call me Owen, please. I'd like your company at dinner tonight, for starters."
Her head jerked up. That was the last thing she expected him to say.
Both of them smiled her way, like two sleek alley cats eyeing their prey. She went hot and cold all over. Why did the boss man stare at her that way? That handshake of his - the memory of it made her legs feel like jelly. The physical sensations it had let loose in her were unspeakably arousing, making her mind flit into dangerous territory, her pulse racing as desire built at her centre.
Then he moved away from the wall opposite and stepped closer, and she felt panic. If he touched her again while she was so aroused, she'd be swamped with sensation. He leaned against her side of the lift, and that put his chest right up against her shoulder.
Mustering herself she shot him a warning glance. "I'm happy to work with you while you are here, but I must ask you to respect my personal space."
Her pulse was racing erratically. The palms of her hands itched to touch him and discover more. Her body was so keyed up that her psyche was reaching out for knowledge of him, of its own accord.
"Your personal space?" There was a faux innocence in his question that didn't match the devilish twinkle in his eyes.
God, he was insufferable. "Don't touch me." The warning was blurted out. "Please," she added, hoping for respect, pity, something.
However, he didn't step away. Instead he rested his elbow up against the wall beside her head, closing her in. "No touching?"
He gave her a thwarted glance, making it obvious that he wanted to touch her, and more.
Monica glared at him, desire flaring ever higher inside her.
Curiosity filled his eyes. "Is this why they call you the Ice Queen?"
Her breath caught. Ice queen? How dare he? "Mr. Clifford, I don't know what you're doing here, but you are being rude and intrusive. It's clear to me that you're deliberately trying to unnerve me."
He smiled, as if he was pleased by that. "I can see you're an intelligent woman, and we are going to be working closely for the next few days, after all, we need to be forthright."
The way he said closely insinuated that he wasn't going to respect her boundaries at all.
"There's forthright and there's downright rude."S he laughed dismissively, trying to match up to him when what she really wanted to do was something entirely different, something prohibited. An image of herself on the floor, head against his knees, begging for mercy, flitted through her mind, and she had to press her thighs together to stop herself staggering.
"I wasn't being rude. Someone else was." He paused deliberately, as if to let that sink in, and it did.
Someone else had called her that? Who?
"Maybe I didn't believe an attractive woman such as you deserved an inappropriate label like that."
Inappropriate? He could talk.
"Maybe I wanted to see your reaction." He scanned her face and then her body with curiosity in those dark eyes of his.
So they did call her an Ice Queen. Monica was mortified.
On the one hand his revelation made her doubt the loyalty of her colleagues. On the other hand it was honest, exposing a working attitude she despised. Men snarking about women - bitter men, mostly. Yes, she'd turned a few of her colleagues down, Flynn Elwood included. Flynn was married, in fact his wife was the money behind his investment in the hotel, but that didn't stop him having affairs. She'd been one of his attempted conquests, years back when they first worked together. It had been awkward between them for a while afterwards. Then they both ignored the fact that he'd made an improper suggestion and it was forgotten. Did that make her an ice queen in his eyes?
More to the point, why was it that Owen Clifford had said it at all? To unsettle her, or to show her what was really being said? Then she studied him again, and his reassuring smile made her want to break free and run from everything she knew, because it made her want him, desperately.
"Even if it was said, you're obviously trying to upset me by repeating it," she said, with a serious note.
"No. I'm sorry if it appears that way. To improve the way things work here I need to find things out fast, and I find that in my line of work pulling the curtains wide open shows the dirt up pretty quickly."
That made sense, even if she didn't agree with his methods. What else had been said about her, she wondered. His motives were double-edged, and he made no effort to hide that. It didn't help that he was looking at her as if he wanted to undress her. "You're testing my loyalty, by revealing what they say about me behind my back?"
"Perhaps. Monica, the hotel performance isn't up to par."
Her eyes rounded, she couldn't help it. That statement seemed so wrong. "I find that hard to believe."
"Sorry, but that's why I'm here."
Could it be true?
He paused, watching her closely. "How loyal are you, Monica Evans? Got any dirt you want to pass back, now that you know what Elwood calls you?" There was no small amount of humour in his expression.
Jesus, he was provocative, and he'd moved even closer despite her warning. Alec, his assistant was amused too. She attempted to shift away, but she was in such a state she managed to do the opposite and gave him an excuse to touch her hip when she brushed against him.
"Oh, what have we here?"
His hand was against her jacket pocket and for one long moment Monica grappled with reality. What was it? Then she remembered - the cuffs. The jewelled handcuffs. Her eyes closed. Shit.
He pulled them out of her pocket, slowly, and held them up for his cohort to see. Light glinted off them and flashed around the mirrored walls.
"They aren't mine." She pressed her lips together, denying the urge to snatch them back.
"Not yours? Aww, I'm disappointed." His eyes flashed seductively. "I was hoping you'd give us a demo."
The flame of sexual interest that had faltered when he'd quizzed her too intimately flickered quickly back into life, her pussy aching in response to his words.
"The item is lost property from one of the suites. I have to log it." Her statement was almost vague, fascinated as she was by the way he looked holding the glamorous cuffs aloft, so powerful and so easily attuned to the suggestive object. "It's part of my job."
"But you kept them." He gave her a thoroughly wicked smile, his glance moving from the cuffs to her and back again.
It made her heart pump. "Actually, I was on my way to secure them when I was summoned to meet you."
He twisted them in his hand, looking at them with speculation. "I bet they made you curious."
She shrugged, secretly thrilled by the way the conversation was going, unable to resist following. "Maybe."
"Maybe? Don't even attempt to deny it, I can tell." He glanced over her again, top to toe. "I can read your body language."His stare was both slow and deliberate. "And I'd put money on the fact you wanted to keep them."
He couldn't know that, she was sure of it. He was just guessing--taking a chance, had to be. But the very fact he was taking that chance fired through her, making a deep, intimate connection. He really was flirting with her, right in front of a man who she knew to be his sometimes lover, and it set her alight.
She shook her head, trying to do it with nonchalance. "I can't keep them. But I can't help admiring objects like that if they pass through my hands. Is that so wrong?"
"No, not at all." He looked as if she had proven him right.
A shout came from above, and the lift jolted into action.
"Ah, the cavalry. Shame." He made the comment under his breath and with regret, tucking the cuffs back into her pocket, patting them in an almost fond and intimate manner. "You'll have dinner with us tonight, and when you do you can tell us why it is you don't like to be touched."
"You really have no shame,"she murmured, deliciously shocked by his insistent attitude, despite the sure knowledge that she should resist the temptation of anyone getting that close to her secret.
What is wrong with me today? It was his fault.
His eyebrows lifted. "Personally I can't think of a single reason why you wouldn't want to be touched. You're the sort of woman who should be put on a pedestal, and adored. Don't you agree, Alec?"
Monica's heart raced. He'd finally drawn in his cohort. She glanced at Alec. He was leaning back against the mirrored wall of the lift, smiling a Cheshire cat smile. The silent, watchful observer. The right hand man. His secret lover.
"Absolutely, " he responded. "You should give it a try."
"Give a try," she repeated.
"Being put on a pedestal," he clarified, and his gaze covered her, speculatively.
She remembered the image of the woman they had shared when she held his keys. Her clothing felt tight and restrictive, her legs weak under her. The doors of the lift slid open, and there was a maintenance man in a boiler suit standing outside expectantly.
It was with some effort that Monica peeled herself away from the wall and stepped out into the corridor. With them both close behind her, logic was hard to keep hold of. She paused and thanked the maintenance man, trying to get a hold of herself. Jesus, I don't even know what floor we're on.
"You'll have dinner with us," Owen repeated, and he was so close against her that she felt his breath against the side of her cheek. His hand hovered a hair's breadth from her hip. It seemed to lure her with its heat, with its promise of pleasure.
Glancing back at him, she saw from his expression that it was an instruction, not an invitation. His eyes glinted with wicked humour, as well as essential male power. "Off the clock, okay?"
Off the clock? Monica didn't know exactly what he meant by that, but she didn't respond, because part of her loved that thrill - the thrill of not knowing. It was so rare, and so tempting...
Now available to download!
Latest Blogposts

Powered by FeedBurner