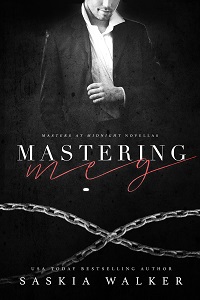 MASTERING MEG - a Masters at Midnight novella.
Available now from the following outlets:
Kindle US
Kindle UK
Apple
Nook
Kobo
MASTERING MEG - SUMMARY:
Piers wants his lover Meg back, and he finally has her figured out—because he found her secret stash of BDSM material. Meg wants to be mastered, and Piers is determined to be the one to do so. After a breakneck drive to her side, he stakes his claim.
Meg is thrilled her ex has cornered her and heads off into the wilds, but Piers is only a whisper behind her. When he captures and cuffs her, her arousal soars. Meg is wildly aroused by his dominant approach, but refuses to admit it. She's always loved Piers, and now he's kicking aside the final barrier between them.
Never before has Meg been so liberated, so debauched, or so thoroughly pleasured. Getting her to admit that, however, is his biggest challenge. But Piers is determined, he has patience…and he has an arsenal of bondage equipment to master Meg with.
"...full of emotion and depth...Saskia Walker weaves a great story about love and trust...Fast paced and well written this is a book that should not be missed." Reviewed by Whipped Cream.
EXCERPT:
Meg trembled as she watched him move around, stacking logs in the grate and lighting the kindle. The way his shoulders moved as he worked made her long to touch him, to stroke her hands over his muscular form.
The smell of the burning kindle reached her. Then he was back, standing in front of her, towering over her. "Are you ready to talk?"
No! She shook her head. This time, her denial was because she wasn't ready to talk, not yet. Not until this overwhelming feeling of being exposed died down. It wasn't going away any time soon either, because images of their bedroom flitted through her mind. She'd left the books and magazines out. It had never occurred to her that he would call by. They'd agreed to wait until after she returned, then have a proper talk and if necessary, split the stuff they had bought together.
Bondage and domination had long been a secret fantasy, and after the split she'd sent for some literature, indulging herself in it to stave the lonely nights and keep the regrets at bay. If he had seen that, he'd also now seen the way she responded.
Ashamed, she turned her face away. The worst of it was she was fast getting aroused again, and what she wanted most of all was his hardness inside her and the pressure of his body on hers—his will forcing her to open up fully, to receive him.
"I guess it'll take another good orgasm to break your silence on the matter of your sexual preferences," he stated, quite bluntly.
Meg stared at him in horror. Yes, he knew. He had been to the apartment.
His eyes had darkened, his handsome lips pressed together determinately as he considered her, clearly working out what he was going to do with her next.
Meg swallowed, her mind running with the possibilities, her body eagerly responding.
Latest Blogposts

Powered by FeedBurner