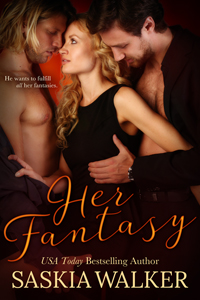 HER FANTASY - a short contemporary erotic romance novella.
Summary:
"Which sexual fantasy is your ultimate turn-on?"
How is Anya Reid supposed to control her lust for her sexy coworker Warren McClure when he asks questions like that on their very first date? She has wanted Warren and to be more adventurous in bed for a long time, but she never expected him to be so direct…or to correctly guess that a menage is her secret desire.
Soon Warren isn't just talking about Anya's fantasies — he's making them come true. But does he want a true relationship, or is he only interested in their erotic games?
Available to download from the following online outlets:
Kindle USA
Kindle UK
iTunes
Nook
Kobo
"It takes a special skill for an author to deliver a satisfying read in the length of a short story. Not only does Saskia Walker have a healthy backlist, she's written an impressive amount of shorter works. So when I opened up Her Fantasy, I knew I was in the hands of a pro. Yes, the gift box was small – but think of it as a jewelry box....I really feel like Walker shows me a world, a slice of a developing relationship, and I honestly find myself charmed by the romance. I like Anya and Warren. In fact, in between the hot sex and the eventual ménage a trios episode, there's a lovely sweetness here. I also like that after the ménage it's not just "Oh, well, that was fun." These two actually ::gasp:: talk about it and where their relationship is heading....More, please." Review by Wendy the Super Librarian for The Good, The Bad and The Unread.
This story is also available in print for Australian readers in the MINE TO SHARE anthology.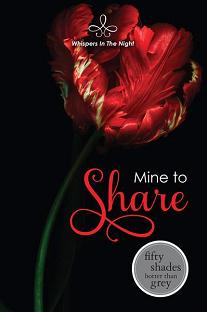 EXCERPT:
"So you two work together, that's how you met?" Joe asked.
Warren nodded. Immediately, Anya sensed the shift in him, as if he were edging closer to his goal.
Joe winked at Anya, and smiled. "It must be hard to get the work done, looking at such a gorgeous woman...wanting her."
"You nailed it." A brooding, almost rueful smile passed over Warren's face.
Anya chuckled. It was like being privy to their male conversation about her: flattering, but somehow dangerous, nonetheless.
Joe's eyes narrowed. He hesitated a moment and then added another comment. "Don't you want to touch her, like...all the time?"
Warren nodded and took a deep breath. "Oh yeah, touch her, kiss her...bend her over her desk and lift her skirt up so I can stroke my hand over the curve of her arse. She has the most gorgeous arse I've ever seen."
Anya's breath was trapped in her lungs, and she looked from one to the other of them, desire pounding inside her.
Joe ran one hand round the back of his neck. "Jesus, Warren."
"That need only got worse," Warren continued, "once I had tasted her."
Anya was learning so much about his reaction to her, and every word he spoke unleashed another wave of physical need deep at her center.
Warren sighed aloud, before he continued. "Walking into the office is now a liability because I want to hold her and taste her." He shook his head, eyes locked on hers. "She has the most succulent mouth…" he added "…you should try it."
That was it.
He slipped it in as if it was most natural thing in the world to say, and then he raised his wineglass to his mouth and took a swig.
Joe ran his fingers through his hair. "You're inviting me to kiss your woman?"
Anya tried not to react, watching them both, fascinated by the negotiation.
"One time only offer, I'm only sharing her with you tonight."
One time offer, only for tonight? What did that mean?
Her question faded away fast because Joe had turned to look at her, eyelids lowered and a slight smile playing around that sensuous mouth of his. Apparently he didn't need to be invited again...
Latest Blogposts

Powered by FeedBurner