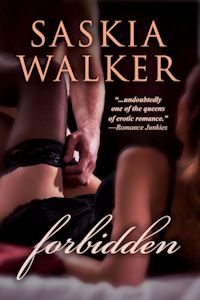 FORBIDDEN - a short erotic novella, Walk on the Wild Side July 2011.
Available from the following online outlets:

Kindle US
Kindle UK
SUMMARY:
Emmanuelle Forsythe is the daughter of a lord, but she's embarking on a secret, forbidden affair with her father's estate manager, Jacob Finch. Jacob is as much a slave to their mutual desire as she is, even though he has been warned off.
On the night of her twenty-first birthday party, while the banker who her parents want her to marry is ensconced with her father, Emmanuelle defies her family's expectations by escaping to make love with Jacob in the gardens. Her behavior is decadent and passionate, a brief taste of something magical that she believes she can never truly own. But Jacob wants more than one night and asks her to keep seeing him, whatever the consequences.
13,000 words in length, contemporary erotic romance.
Please note: this short story contains frank language and graphic m/f sex scenes.
Latest Blogposts

Powered by FeedBurner