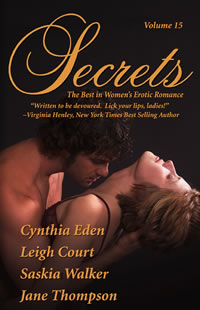 FALLING FOR TROUBLE a contemporary erotic romance novella, appeared in Secrets Vol 15. ISBN:0975451650
Available from:
Amazon.com
Amazon UK
With 48 hours to clear her brother's name, Sonia Harmond needs all the help she can get. She gets it in the shape of irresistible bad boy, Oliver Eaglestone. When the erotic tension between them hits fever pitch, securing evidence to thwart an international arms dealer isn't the only danger they face. Can either of them resist falling for trouble?
"This book contains four tales by some of today's hottest authors that will tease your senses and intrigue your mind...FALLING FOR TROUBLE is an unbelievable adventure full of action and suspense. Oliver is dark and sexy in a dangerous way that will curl reader's toes. Sonia's courage will capture readers and her willingness to do whatever needs to be done certainly makes the story interesting. Love scenes are so hot readers will need to keep some ice handy to cool them off. Saskia Walker has penned another winner that readers will read again and again. 4.5 blue ribbon rating. Angel, Romance Junkies
"This was a refreshing story. Being written by an Englishwoman and taking place in Europe, this story had an entirely different feel than the others in this anthology. Oliver was great, a Pierce Brosnan kind of agent, yummy to the nth degree. Sonia really rolled with the punches throughout the story. I was impressed with how well she dealt with a truly crazy situation. This was a very well written story and I will look for more by this author." 4 Angels. Serena. Fallen Angel Reviews
"Sonia Harmond and her friends always end the work week with the same phrase. "Have a wild weekend!" Well, this time, Sonia is definitely having that wish granted. Before she can blink, the notorious Oliver Eaglestone arrives at her stoop and says she must accompany him because her brother is in trouble. Well, Sonia knowing his reputation makes Sonia leery. This man is a womanizer and a scoundrel. Should she believe him about her brother Alec and his trouble? More importantly, can she resist this smooth talker and guard her heart? Can he deny his feelings for her and stick to the code of friends? Yes to the first and not a chance to the last two! This is sure to be one wild weekend! Tracking down criminals and saving lives has never been as sexy as this. You will be hard pressed to find a dull moment in a Secrets Volume and this one is no exception. Action, of all sorts, is always on the menu. These authors have given us exactly what we were wanting…lust, love and romance. Steamy, hot, sizzling, all these words describe how Secrets Volume 15 will make you feel. As usual, BRAVO, ladies!!" 4 plugs, Thia McClain, The Romance Reader's Connection
"Having heard about each other for years but never managing to meet in person, both Sonia and Oliver had preconceived notions about the other that turned out not to hold true. From Alec and Sonia's mother, Oliver got the impression that Sonia was a frumpy spinster. So when the hottie with the short skirt, high heels, and legs going on forever steps out of a cab, it's Oliver's tongue that's hanging out. Similarly, Sonia has heard about Alec and Oliver's adventures and is expecting a playboy, but is pleasantly surprised at his sensitive side. In the race to gather evidence, they can't help falling in love as they're Falling for Trouble." Phillipa Ann. Romance Reviews Today
EXCERPT:
Before she had time to quiz Oliver some more, the sound of whistling rose up from the floor below. "Oh, my god, it's the security guard."
"I thought you said he did his round on the hour." He glanced at the time display on the computer and then passed his torch over his watch. "It's only ten minutes to two."
"He obviously doesn't stick to his schedule," she snapped, panic swamping her. "What are we going to do now?"
He retrieved the disc from the PC and put it back in his pocket, closing down the mail program as he stood up. He gripped her upper arms, forcing her to focus on him.
"Trust me, we can cover up."
"Cover up? Cover up a breaking and entering?" Panic had hit her and hit her hard.
"You didn't break and enter, you simply let us in."
"Oh please! "Don't bloody remind me."
"We just need to find a good excuse to be here." He glanced around the room. "Do you know him?"
"Who?"
"The security guard." He switched the PC off and shifted the chair back into place.
"Yes, I saw him coming on duty as I left the office."
"Good."
Good? Was he mad? To her mind, that only made matters worse.
"Does he flirt with you?"
What? "I suppose so, but what the hell has that to do with anything?"
He rested his hands on her arms, urging her to move to the end of the desk. She swallowed, the rising tide of physical awareness between them jangling her nerves.
"You're a very sexy woman." He looked her up and down as he said it and winked. "Trust me."
He let her go and she had to grip the edge of the desk for support. That was the second time he'd called her 'sexy.' Sonia just stared at him, confused and nonplussed by his comments and his actions. And now he was shifting objects off Tarquin's desk.
"Take off your jacket."
"What?"
"Like I said earlier, you're going to have to trust me."
How could he be so calm? She felt like her emotions were on a crazy roller coaster ride all of their own.
A door slammed down the corridor. Oliver frowned and gestured at her. "Take off your jacket and get on the desk. When he comes in, tell him I'm your boyfriend and we were playing out a fantasy that you've had about having sex on your boss's desk."
She glared at him, her jaw dropping. "You can't be serious?"
He began unbuttoning his shirt, revealing a strong muscular chest and abdomen. In the pit of her belly, an ache of longing sprang up. She tried to ignore it.
"Believe me he'll be so fascinated, he won't question why else we would be here." He winked again. "I'll offer him a bribe to keep quiet. We can't afford to have your boss hear about this."
She could only stare at him, incredulous. Surely this was all some weird nightmare from which she would awake at any moment? But the whistling was getting louder, doors were opening and closing. The guard was getting closer. Her heart beat out a fierce, erratic rhythm. Sex on Tarquin's desk? He was mad! Who would believe that? She glanced at the door to the corridor. There didn't seem to be any alternative. With shaking hands she pulled off her jacket and dumped it on the floor. Shimmying up onto the end of the desk, she laid back and cursed under her breath.
He loomed over her, pulled open the buckle on his belt and lowered his zipper.
"What are you doing now?" she hissed, her focus shifting.
"Making it look real." He left his jeans hanging open, revealing white jockeys molded to the rather spectacular bulge inside them. She wouldn't have been able to stop staring, had he not shocked her out of that particular line of behavior by manhandling her body closer with sudden force and pushing her skirt up around her hips with strong, knowing hands.
The soft jersey dress she was wearing had bunched easily at her waist leaving her exposed, all but for her flimsy lace panties. Heat raced through her and her cheeks flamed. How dare he?
As if she wasn't exposed enough already, he wrenched her legs apart and she felt the hard pressure of his belt against her inner thigh. That wasn't all. She could feel him. That enticing bulge. She was lying on her boss's desk at two in the morning with Oliver Eaglestone; her skirt was up around her waist and she could feel his cock. She bit her lip in effort to keep a hold onto her sanity. A door sounded nearby. The guard was getting close. She looked at Oliver, beseechingly. He was eyeing her body, appreciatively. He gave a low sound of approval, almost a growl. The muscles of her sex clenched in response.
"I think you're taking advantage of the situation," she muttered, while trying to ignore her body's reactions to his proximity. Her clit was pounding and his weight against it was only making it worse.
"I think we're going to have to deal with this trust issue you have."
"Trust issue?" she blurted, her hands fisting against the desk. The tension was unbearable.
He put one finger against her lips. "Yes, you're going to have to trust me if we're going to get through this." He shrugged off her accusing stare. "Sexy undies," he added, moving his hand to run his finger under the black lace edge of her panties.
Sensation flew out from his fingertips to race across her skin, desire spiraling through her whole body. Her hips moved under his, her body reacting to his touch. She wanted to hold him, wrap herself around him and take him inside.
The expression in his eyes sharpened.
"Oliver Eaglestone, back off!" She glared at him. Another wave of heat spotted her cheeks. He had her compromised and she was on fire, she could die of embarrassment.
But instead of backing off, he bent closer and kissed her neck. The touch of his mouth sent wildfire racing under her skin. Her head rolled on the desk, her hips arching against him. When he cupped her breasts through the soft fabric of her dress, she groaned. Her body had responded all too well to him. Not only that, but he had responded too. She could feel the pressure of his growing erection between her splayed legs, right where her body wanted it. His hands were locked around the soft under sides of her breasts, his thumbs teasing over the material that separated him from the hard, sensitive surface of her nipples. It was sheer torture. She was on fire with need. Her entire body shuddered with it.
His head snapped up. Their eyes locked.
"Oliver, don't…" This time it was a desperate plea. "He's almost here and you're...you're driving me mad."
Their hips were anchored together by the fierce tug of desire between them. Instead of backing off, he drew closer again and brushed his mouth against hers.
She groaned softly when his lips whispered over hers, gently, inquisitively. She felt his breath mingling with hers, the scent of his cologne and his keen maleness engulfing her.
Yearning bit deep into her core. She responded without thought, driven by desire, reaching to press her mouth fully to his.
He took the offering, kissing her deeply, mastering her senses in an instant. He explored her lower lip as if he was claiming it as his territory. While his tongue tasted hers, one strong hand reached behind her neck to lift her toward him, the other moved over the surface of her breast with deliberation.
She lifted her hands from the desk and moved them to his shoulders, her body arching against his. Firm muscle flexed at her touch. His cock was growing harder by the second and she wanted to touch it, wanted to feel it in her hand, wanted to feel it thrusting deep inside her.
A moment later, he drew away. The expression in his eyes was heavy with desire.
"Oliver?"
He didn't respond.
The footsteps in the hallway had stopped. The door clicked open and the light flickered on, but it was several seconds before either of them could break the connection and look toward the stunned guard who stood in the doorway. Something electric had passed between them. Something primal. Something undeniable.

OUT NOW!
***
Latest Blogposts

Powered by FeedBurner