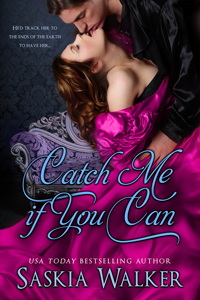 CATCH ME IF YOU CAN- a historical romance
Please note: This novel is a sensual historical and not as explicit as Saskia's other work.
Available in print from:
Amazon US
Amazon UK
Createspace
And in digital format from:
Kindle US
Kindle UK
Kobo
Nook
Apple
Cover art: Kim Killion
Escorting an English Heiress should be no trouble for an experienced man of the world...or so he thought.
Miss Eleanor Craven is much more than she appears. The daughter of a world traveller, she's confident and rebellious -and refuses to be chaperoned. No self-respecting adventurer has a chaperone! The man her aunt has sent as escort would only hinder Eleanor with his strong opinions and tall, dark good looks...and his muscular body that has Eleanor thinking more about sensual trysts than exciting travels. So she must give him the slip-but perhaps one night in his arms wouldn't hurt before she disappears.
Peter Rivers loves his work in the California vineyard he manages. So when he's asked to escort the family's niece on her journey he agrees without hesitation, positive he can resist the fiery attraction he feels whenever she's around. After all, Eleanor may be fearless, but she's also an innocent in all ways, and he won't betray the trust of his employers or ruin their good name-not when his past tarnished his reputation beyond repair. No, somehow he'll have to avoid temptation.
Little does he know Eleanor is hell-bent on seduction!
Excerpt:
Why shouldn't she enjoy the pleasures that he offered her? There was no moral code to be obeyed now. They'd abandoned that, there was only two grown people indulging their passion for one another.
Passion, she thought, yes, their passion for one another. She moved faster, an invisible thread drawing her in the wake of his footsteps.
She recalled the feeling of his body against hers, the exquisite sensations he'd nurtured and set free inside her. She wanted to know them again. Her footsteps quickened as she climbed the stairs. She glanced behind her toward the echoing music and faint voices still coming from the ballroom and anterooms.
When she reached her bedchamber she paused outside the heavy mahogany paneled door, and pushed her hair back. There was no one about in the gloom of the passage. She opened the door quietly, quickly moving inside and closing it behind her. She leaned against it, as if to close out the world.
A small lantern glowed by the bedside.
Rivers stood there, his tall lean frame half cast in shadows, his eyes on her. She wanted him. The power of her desire strengthened her determination. She left the door and walked to him.
He smiled, indolently. "You managed to wait…" He flicked open his pocket watch. "…about two and a half minutes. How eager you are to reach your bed." His tone was teasing.
"I won't deny it." Her erratic heartbeat made her bold.
He smiled at her remark, and she arched her eyebrow. "And you, sir, you are here – in my private room, when by rights I should send you on your way."
She was gratified to witness a flicker of doubt in his eyes. No, she'd no intention of sending him away and perhaps couldn't, so strong was her need, but his arrogance had to be tempered before she let him take control of her body once more.
He touched her hair, running his hand down its shimmering length, the simple gesture somehow claiming her. "I would respect your decision. But you wouldn't send me away, now, would you?"
"I should." She braved herself. "However I find myself curious regarding your statement about pleasuring me until dawn."
He looked deep into her eyes.
"Is it possible?" she queried, with as much dignity as she could muster.
His eyes shone, his mouth curling. "Believe me, I'm going to do my damndest to find out."
His mouth descended to hers. He leaned over her, his hands crushing her body to his. Her lips parted. She caressed his neck and slid one hand down inside the open jacket of his uniform.
She tilted her head back, limbs heavy with desire, fingers entwined in his hair. "I want you, Rivers, and I cannot think of a better way to bring in the New Year than discovering more about this passion…" Her voice faltered. "…that we seem to share."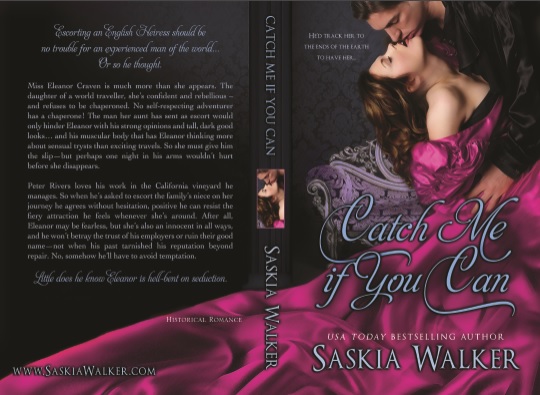 Latest Blogposts

Powered by FeedBurner