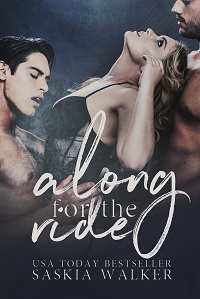 ALONG FOR THE RIDE an erotic novel about sexual exploration
In print and digital download from:
Kindle US
Kindle UK
Kobo
Barnes and Noble
Apple
Google Play
Summary: Soon after her arrival at art college in London Georgina Montgomery begins modeling for one of her tutors, the Austrian artist Calvin Rolf. When Cal introduces her to his photographer friend, Jason Sutherland, a steamy ménage ŕ trois affair follows. Being involved with two gorgeous men is a heady intoxicant, and Georgie casts her inhibitions aside. She's in her element, but their idyll of sexual adventuring in London is interrupted because a paparazzi scandal threatens to erupt around them.
Jason has taken intimate photos of an old flame, Chloe Mac, now a pop star and media darling. His cousin is after the images to sell to the highest bidder, and Jason has to get to the photos in Scotland before his cousin does. Cal and Jason decide to hit the road, and Georgie comes along for the ride.
But the paparazzi hunt results in Georgie's kidnap, and danger ups the emotional stakes for everybody involved. Georgie has to put her new found sexual power and confidence to good use, and territorial claims of the heart are about to be made.
Warnings: This is is a vintage erotic novel and it contains explicit scenes that some readers might find objectionable including m/f/m, m/m, anal play and some BDSM. Please note: this book has been previously published with a different cover.

"Along for the Ride by Saskia Walker is a delectable exercise in sensual and romantic discovery...Their ménage is terribly hot (in that amazingly awesome way) and beautifully sweet as they each struggle along their separate paths to discovering and accepting love. Ms. Walker has done an outstanding job of creating a sizzling story, with lots of bone-meltingly scorching sex, that still grabs one by the heart and causes one to go all soft inside with romantic notions. The best part is that Ms. Walker has that rare talent of sucking the reader completely into her world and keeping her bound to the pages. I found myself trying to rush for the end and at the same time savor every moment. This is one of those unique books that has me shoving my friends to the store to buy it; because there is not any chance I am letting even my most trusted friends any where near my copy . . . and they just must read this one! 5 stars Keely Skillman, EcataRomance Reviews
"The sumptuous erotic story of a ménage between two friends and a vivacious woman is the basis of Along for the Ride. This book is filled with amazing tension and sexual imagery; you will need more than a few moments to recover your senses. The highly erotic scenes display needs of primitive hungering, deep profound emotions of new found love and hidden wants that are gradually realized throughout this well written tale. The ménage between the characters and homoerotic sensuality adds a more profound dimension to not only the past of the characters, but to their depth. The same sensuality between Jason, Calvin and Georgina is played beautifully in showing the slow transition from lust to love. This breathtaking story explores the fragile theme of love but adds the twist of various styles of sensuality and sexuality to set a tale that is enjoyable for any reader." 4 Stars, heat level: Orgasmic. Mila "Bean" Ramos Just Erotic Romance Reviews
"This erotic story will have you hot and bothered right from the beginning, all the way to the end. Along For The Ride explores an alternative relationship between these three characters in a provocative, scorching manner. Georgie just drips with sexuality. She's a woman who wants to explore and experience all of her sexual desires and fantasies. And Cal is just the man to help her. An alpha male through and through, Cal controls the partners in this relationship with a strong, yet gentle hand, but when his feelings for Georgie become more intense than he's ever felt, it takes Jason to make him realize it...If you enjoy hot, hot, hot sex in a manner that is definitely not traditional, along with a little suspense you'll love Along For The Ride." 4 Angels. Trang, Fallen Angel Reviews
"FIVE hearts! The characters are vibrant and alive with emotion and extremely comfortable in their skin lending a very real feel to them. This is definitely a keeper for all those self-proclaimed romance book junkies like myself." Paula Beaty
"Along for the Ride is a titillating roller coaster ride of lust. The heat between Georgie and Cal is enough to start a fire, add in Jason and it becomes combustible. Not the run of the mill erotic romance, there is plenty of shocking naughtiness in this story and it will keep the reader fanning themselves throughout. The sex scenes are amazingly hot with a ton of spice. I enjoyed reading the story; it kept me wondering what was coming next. I was pleasantly surprised with the new and inventive ways the story took sexual twists. Ms. Walker has done a very nice job and I look forward to reading more by her." Dawnie, 4 angels from Fallen Angel reviews
"What a ride it is! London, Edinburgh and various points in between, indoors, outdoors, in public and private, this trio heats up the pages till I thought my e-reader was smoking! This is your book if you like lots of hot hot sex!" 4.5 stars Alberta manic Readers
"Along For The Ride is one of the hottest, sexiest, most sensual books I've read! Between the erotically charged encounter between Cal and Jason to the passionate days and nights spent with the three of them, I found myself holding off on reading the book until I had some quality "alone time." Though the book was blisteringly hot from page one, it was also surprisingly sweet and charming." 5 stars and an O for Orgasmic, Silla Beaumont at Just Erotic Romance Reviews
EXCERPT:
Georgie chose a fitted sheath of a dress in black to wear that day. It flattered her dark looks. She smiled at herself in the mirror. It was important to look right arriving, although she would soon be undressed for the modeling. Cal always looked at her with an enquiring eye as she entered his space. That first glance set the mood for the rest of the session. Georgie was already attuned to his way of working; he intrigued her and observing him at work was a pleasure in itself. She swept her hair up into a wide silver clip, treated her full lips to a coat of rich ruby lipstick and dabbed a little of her favorite Hugo Boss scent along her collarbone. When she swept up the tiny stone steps that led from the flat to the street she took a deep breath. She felt the anticipation humming in her veins as she walked along the busy midday streets towards Cal's studio apartment.
"Come", he shouted, when she tapped at the door.
He was sitting in the center of the space on a stool with his long legs crossed at the ankle, eyes on the door. His hands slowly folded a dark liquorice paper around a thicket of tobacco. Next to him a blank canvas stood on the easel; he had prepared for a new beginning.
As she walked into the studio she noticed the cushions that were usually spread across the floor where she posed had been replaced by a large, elegant sofa. It was big and wide, like a relic from a stately home. Covered in deep burgundy velvet and edged with gold braid, large tassels hung from the sweep of each armrest to complete its ostentatious presentation. In one corner of the room a large smoothly molded sculpture of a woman with her hands buried between her thighs now stood, one shoulder against the wall as if balancing there while she masturbated. The flagrantly exposed woman made her instantly hot. Was that his intention?
Cal watched her intently as she walked in. His eyes followed the swing of her hips. He took the cigarette to his mouth as she neared. She smiled, hoping that her face wasn't too flushed. She breathed him in; the look of him filled her mind, the smell of tobacco, oil paints and his musk enveloping her body. She reached to the easel and collected the box of matches that always sat amongst the paint and brushes on its ledge. As he sucked the flame from her fingertips he looked into her eyes.
"Thank you, Georgie." He looked her up and down.
"You look terrific, very sexy. That's good. That suits my plans…" Her eyes shot up to meet his. "For the painting." He gestured at the blank canvas and smiled at her again.
"What would you like me to do?" She opened her arms, as if to let his artistic persona in. He stroked his beard, his eyes outlining her body briefly, and then stood up.
"Here," he said, gesturing to the stool. "Just sit. I will make some sketches first."
Georgie took the place he had indicated. This was unusual. He invariably worked straight in paint onto the canvas, and only once before, the first time, he had left her dressed for a while. He seemed to be waiting. Her mind suggested he was waiting for Jason. She wondered if that was the case. As if in response to the silent question her mind had posed, Cal spoke.
"I have asked Jason to come over later, to help me with this." He glanced at her to see her reaction. Georgie looked directly into his eyes. She was beginning to guess what he might have in mind.
"Do you, work, together ... often?" she asked, her pauses deliberate. She smiled, her mouth twitching as she observed the downward sweep of his lashes before he nodded. Sometimes this man was so direct, and at other times quite devious.
"Occasionally," he replied, cautiously.
"What is it that he helps you with, the painting or the… theme?" She couldn't help herself, she was desperate to know. Cal chuckled.
"That's one of the things I like about you," he said. "You're a very candid woman."
Georgie shrugged.
"Sometimes there is no point beating about the bush," she replied. "But you've avoided my question." She gave him a cheeky smirk.
"So I did. Well, I am hoping he will be able to help me with a little of both."
"Both?"
"Can I be candid myself...?"
She nodded encouragingly.
"I like the way you look when you're being fucked, I want to capture something of it, however it's difficult for me to concentrate when I'm doing the fucking myself."
Georgie swallowed. It was just as she had expected, but hearing him say it aloud was quite another thing.
"Does he know what you want him to do?" Her voice was low. Her heart was pounding.
"He seemed very keen, if that's what you're asking."
Georgie blushed. She had handled herself quite well up to that point, but something in her had to know. Now that it had been said she realized that there was no turning back.
He seemed to sense that she was willing to follow where this led, but that she needed to know more. "Jason's a pretty cool guy. We have been friends for a while. He is a photographer, mostly broadsheet press although he does sometimes do celebrity interview shots for the gossip magazines. We met in Austria when he was working on a travel shoot there. When I came to London we got back in touch."
The charcoal span in his fingers, he wasn't drawing. He chuckled to himself. He was working his magic, focusing her on the man who would shortly arrive.
"He is also a musician, a talented classical guitarist, and a tattoo artist. It's difficult for him, to focus on one thing, when so many options in life beckon." He seemed older and wiser than Jason, but she guessed they were about the same age; their personality was what set them apart. Cal was more intense, Jason more free-spirited. How fascinating, to have two such different but sexy men on hand. Georgie's blood was on fire at the very idea of it.
"What about you, is painting your favorite thing?"
"Life is too short for favorites, Georgie." His glance was meaningful. "I would like to try everything, wouldn't you?" Georgie wondered if they were back on the subject of sex, but she was also curious to learn more about him.
"Is that why you teach?"
"I learn from the students, it is good to see things they create, their visions of life." She could see it would be impossible to go for long without thinking about sex – it was their theme, after all.
By the time Jason arrived they were chatting about the other students at the college. Georgie was older than most of them and she and Cal shared anecdotes of their nubile antics. The charcoal lazed in the palm of Cal's hand, occasionally rolling backwards and forwards with his gestures, but Jason brought with him an atmosphere of sensual tension. He was ready to begin; their voices stilled. The two men exchanged meaningful looks and nodded at each other; Georgie wondered if it was a silent acknowledgement from Cal that the scene was set. Her pulse began to trip higher.
Jason touched Cal lightly on the back as he passed, in a gesture of greeting, before walking over to Georgie. He was a very handsome man, his skin warm and lightly tanned, his features classical, his body firmly muscled and attractive. She could see he was ready for some action; the hunger in his expression was obvious. He looked into her eyes then kissed her on both cheeks, slowly, his hands slowly smoothing her hair back from her face. The brush of his lips across her face and the musky scent of his skin brought a momentary pause to Georgie's breathing. Anticipation forced it on again, more rapidly. Georgie smiled in appreciation and drove the momentary doubts back where they came from in her mind; she wanted this; she knew it was going to be good.
"Hello babe, you're looking good."
"You're looking pretty fit yourself," she replied, feeling very reckless and daring, her pulse rate flying up as she allowed herself to take in the presence of so much testosterone.
Cal watched them negotiating each other. She could see he was looking with his artist's eye, for the painting, but she sensed it was more than that, it was a thrill to him, this, to share his friends, to offer them to one another this way. Her body burned up with a mixture of shame and desire, she was about to display herself in a way that she never had before.
"Should we let him watch?" Jason whispered to her. "We could just tell him to get lost." Humor danced through his expression.
"I doubt you could make him."
Jason chuckled.
"Perhaps you're right."
She glanced at Cal who frowned at them from across the room. She blew him a kiss. Jason closed on her, kissing her neck as she looked into Calvin's eyes. Power surged through her veins. This was going to be good, she knew it.
Latest Blogposts

Powered by FeedBurner